Apeiron brings the high-Optane thrills with mix-and-match flash array
The eagle has landed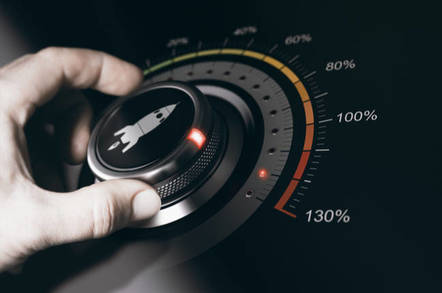 Apeiron is speeding its ADS1000 NVMe flash drive array with added Optane drives.
The concept was demoed in June, and here, bright and early for the 2017 Flash Memory Summit, the actual product pops up. In June Apeiron's chief revenue officer and VP of marketing Jeff Barber told us: "With a 70/30 read/write mix, where Optane with Apeiron produces only 13 microseconds of latency vs 500 for NAND. Large block writes are 10x NAND performance, with 25x less latency."
The server-ADS1000 link is across a hardened Ethernet with Intel Altera-based ASICs managing the NVMe/PCIe-to-Ethernet interchanges. Storage management is moved to the application server instead of the ADS1000 having an embedded/proprietary controller.

Apeiron ADS1000
A 1U server can support just two Optane add-in cards (AICs) but the ADS1000 with its 2U chassis supports 24 x 2.5-inch form factor drives and Apeiron fits it with U.2 format 2.5-inch Optanes (P4800X drives, we think). Each can hold up to 385GB, which means an ADS1000 fully populated with Optanes has 9.24TB of capacity.
Are they dual-port Optane drives? Barber said: "Dual port reduces performance and therefore the purpose of Optane. We mirror the entire drive for protection, which also doubles the read performance. Optane's PCM 'charging' takes time, we eliminate this latency with two or more drives."
You can mix-and-match Optane and flash drives in the same enclosure or have separate Optane and NAND chassis. Either way storage tiering is feasible.
Apeiron says that, by pooling Optanical ADS1000s together, Optane storage-class memory can grow to hundreds and thousands of drives and out to petabyte scale.
This ADS1000, if your applications can use it, offers access to the single fastest-accessible storage pool in the industry. If you need this level of access speed to this amount of storage then call the Ape Iron people. ®