Trump as US president (in Sharknado 3)? Oh Hell No!
The Donald missed out on cameo in crap film franchise to run for White House – reports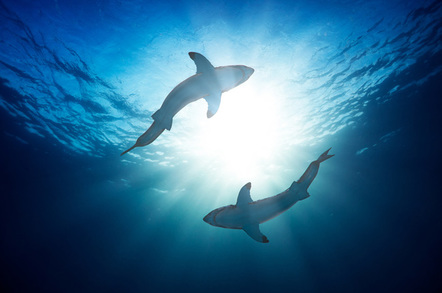 Donald Trump was reportedly in talks to play the president in the third incarnation of cult sci-fi disaster film Sharknado – until he welched on the deal to run for the real thing.
According to entertainment news site Hollywood Reporter, the Donald had all but signed on the dotted line for Sharknado 3: Oh Hell No! when his people told the film crew the plan was off.
Gerald Webb, casting director on the first three Sharknado films, in which freak hurricanes hurl Jaws and his buddies at C-listers, told Hollywood Reporter that the talks "got pretty far".
The report goes on to say that a contract was drawn up and sent to Trump's attorney Michael Cohen, who stalled for weeks before finally admitting the reason for the delay.
David Latt, one the brains behind the franchise, told the news outlet that Cohen had said: "Donald's thinking about making a legitimate run for the presidency, so we'll get back to you... This might not be the best time."
The part eventually went to Mark Cuban, much to the chagrin of Trump's team who – according to Latt – went so far as to threaten to sue to filmmakers, although Cohen denied any "angry correspondence" to the Hollywood Reporter.
It would have been just one of a series of TV and movie cameos by the man who now leads the free world, including Zoolander, The Fresh Prince of Bel-Air, Two Weeks Notice and of course the famous run-in with boy-star Macaulay Culkin in Home Alone 2: Lost in New York. ®