Largest ever losses fail to dent Tesla's bulging order book
450k folk want a Model 3 – and record revenues won't hurt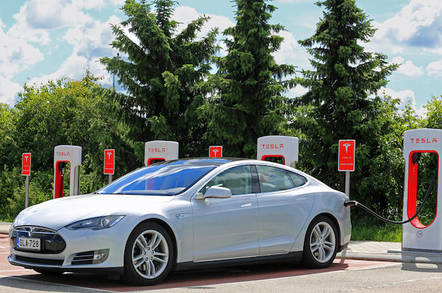 Tesla has posted its largest ever loss in its latest quarterly financial results, continuing its trend of burning ever greater quantities of cash.
Although the company also posted its highest ever quarterly revenues of $2.28bn, beating analysts' estimates, this was set against chief exec Elon Musk warning that Tesla faces six months of "manufacturing hell" in producing its $35,000 Model 3 electric car, as he announced last month.
The net loss for the second quarter of fiscal year 2017 was $401.43m. In the previous quarter Tesla lost $397.18m, while its loss in the second quarter of fiscal year 2016 was a relatively paltry $293.19m.
Tesla's share price jumped 6 per cent overnight after the results were announced, up from $325 to $347. Over the past eight months the company has almost doubled its share price from its December 2016 low of $181. The price did nudge $383 in June before slumping back.
Tesla said, in its letter to shareholders announcing its quarterly results, that its order book is increasing. This goes some way towards explaining its growing revenues, in spite of the firm splurging $1bn on capital expenditures. Reuters noted that Tesla said it was considering another $2bn in capex this year.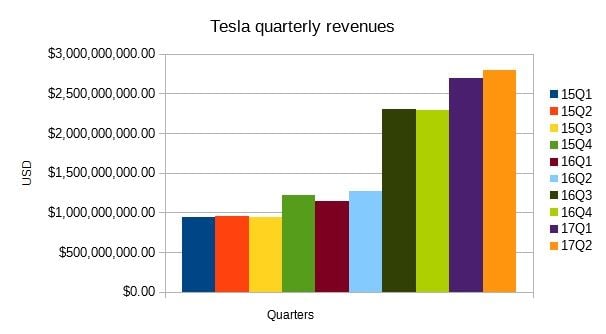 Tesla revenues from Q1 FY15 to Q2 FY17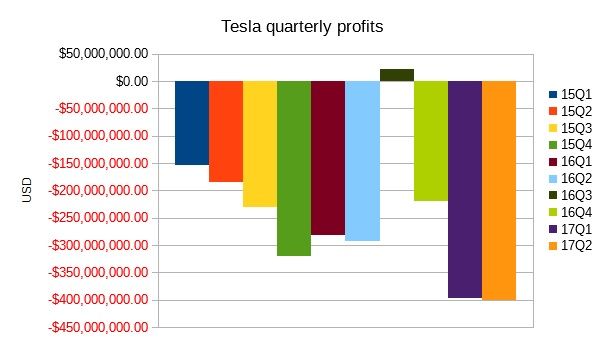 Tesla losses from Q1 FY15 to Q2 FY17
During the quarter, the firm produced 25,700 cars, which it said was a 40 per cent increase on production from last year.
Some 455,000 people have reserved Model 3 cars so far, though production of the basic model will only begin in January. First off the line will be its $44,000 premium edition. ®