RentBoy.com boss faces six months of hard time
Judge goes easy on bloke on web brothel rap, citing work with LGBTQ community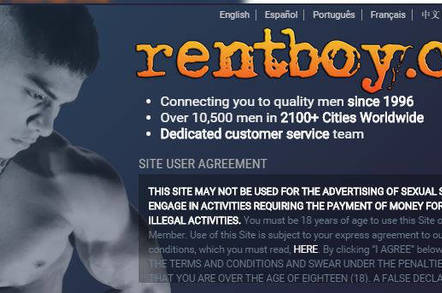 A US judge has sentenced the owner of male escort marketplace Rentboy.com to six months behind bars.
Judge Margo Brodie, of the Eastern New York US District Court, said on Wednesday that Jeffrey Hurant's history of work with and on behalf of New York's LGBTQ community had earned him a lower-than-recommended prison term.
Prosecutors had asked for an 18 to 24-month term on the charge of promoting prostitution. His company, Easy Rent Systems, Inc, pled guilty to charges of conspiring to launder money and has given up its assets.
Counts of racketeering and money laundering against Hurant were dismissed at prosecutors' request.
Hurant, 55, and his company ran Rentboy.com, a site that, from 1996 until it was seized by the FBI in 2015, served over 500,000 visitors a day, connecting sex workers with punters. Authorities estimate Hurant and Easy Rent made roughly $10m through subscriptions.
At the same time, Hurant's defense argues, he made himself a fixture within the city's LGBTQ community, working with LGBTQ youth groups in the area, promoting HIV research and awareness, and supporting community groups.
The defense noted that in addition to making money through the Rentboy.com site, Easy Rent also offered services to the escort community through its Rentboy U program, teaching subjects such as financial management and safe sex practices designed to protect escorts and allow them to operate safely without pimps.
Supporters of Hurant, including a New York State senator and an attorney who was a long-time friend, argued that Hurant posed no threat to himself or the public and deserved leniency from the court, noting his history of community work and status within the LGBTQ community.
These considerations appear not to have been lost on Judge Brodie, who told Hurant of his company: "The very thing that was illegal, it also did a lot of good." ®
Sponsored: Becoming a Pragmatic Security Leader