PayPal splashes cash on biz that persuades folks to splash cash online
🎶 It's the circle of life 🎶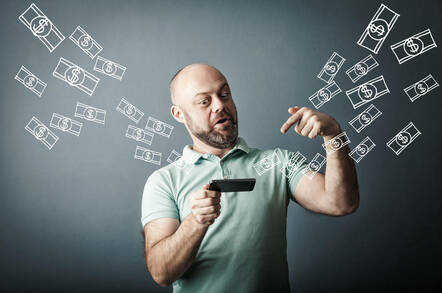 PayPal has invested in e-commerce tech firm Cloud IQ as part of the upstart's latest £4m funding round.
Cloud IQ claims to be able to encourage people to spend 10 per cent more online, by throwing targeted ads and personalised emails at visitors to their clients' websites.
PayPal has previously partnered the firm, but the investment cements its work with the startup, which has generated around $14m in equity funding since its inception in 2012.
A spokesperson for the US payments giant told The Register that this would be a continued partnership with the small UK biz. "This announcement is only a minority investment. PayPal looks forward to developing its partnership with Cloud IQ," they said.
It's also the latest in an increased investment drive from PayPal, which has - according to Crunchbase - been involved in four investments already this year, compared with five in 2016, three in 2015 and just one in 2014.
The startup itself claims to take advantage of artificial intelligence and machine learning technologies, although there isn't a vast amount of detail proffered up by the company on the data science behind its platform.
Canned statements indicate that data generated by people's browsing habits is pumped back into the firm's platform and is used to figure out the best way to convince them to part with their hard-earned cash.
The company's CEO James Critchley has previously argued that neural networks make it possible for smaller firms to improve their so-called "conversion" rates in real-time.
Critchley told The Reg that his company's aim is to be seen as a simple solution that everyone can use, through a "fully autonomous solution that requires no on-site development work". Customers have to add a small piece of code to their site in order to connect to Cloud IQ's database.
The cash from the latest funding round, which is on top of a February 2017 round that brought in another £4m, will allow the company to establish a new engineering team, he said. ®
Sponsored: Becoming a Pragmatic Security Leader