No time for nap, update your QNAP: RAIDed NAS data corruption bug squashed
Not before a push from Oz small biz techie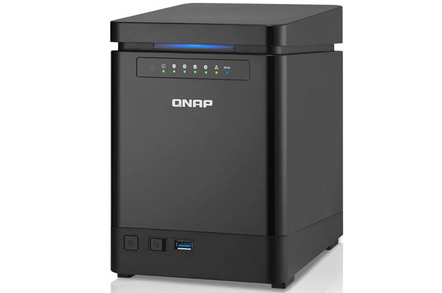 QNAP has put out a critical NAS firmware fix notice after prolonged pushing by a small business tech IT pro guy in Australia.
If you use QNAP NAS in a RAID 5 or 6 configuration, you should update the firmware immediately.
Wayne Small runs the SBSFaq website which is focused on the concerns of small and medium business IT professionals. Small said he became aware of a bug affecting QNAP NAS systems running in a RAID 5 or 6 configuration. Small wrote that he'd used StorageCraft ShadowProtect to back up his data to four RAID'd disk drives. If a disk failed, then the QNAP rebuild process kicked in and corrupted some of the data through faulty calculations, he said.
When the failed drive was replaced, the same calculations were used to populate it with (corrupted) data, he claimed.
StorageCraft's ImageManager runs periodic data integrity checks and flagged up the data corruption. QNAP's own integrity check used the faulty calculations used to rebuild the data from a failed drive and so acted as if the data were fine, he said.
After four months, QNAP put out a firmware fix, Small says, adding:
If you have any QNAP running a version before 4.3.3.0154 20170413 or 4.2.5 20170413 then upgrade it immediately as you risk data loss should you have a drive in your RAID5/6 array fail.
He's discussed QNAP's fix actions here.
QNAP updated its firmware release notes this month, and also set up a technical advisory website with a CRITICAL severity technical advisory note and Small describes that here. ®
Sponsored: Practical tips for Office 365 tenant-to-tenant migration