House fire, walk with me: Kodipocalypse now includes conflagration
Streaming hardware fails UK safety standards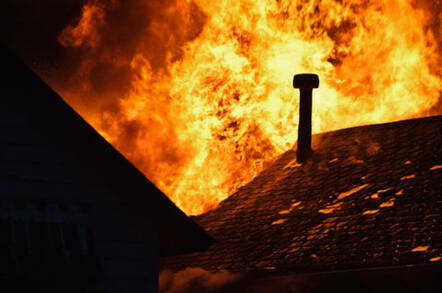 Pirate TV boxes may not be safe, IP champions FACT and Westminster Council, in the south of the UK, have claimed.
"The safety issues we have found so far are to do with the device's power supply. It is not double insulated nor does it have another grounding system (it only has a two-pin plug) meaning if a short were to occur it may electrocute the user or cause fire," a council spokesman told The Register.
Earlier this month Westminster Trading Standards swooped on an address in London W2 in connection with a case where pirate-friendly £100 boxes were being sold via the web. A 53-year-old man was arrested, and later released while inquiries continue.
It's all part of an ongoing nationwide crackdown on gadgets that ship with media streaming software Kodi. The software itself is copyright-agnostic, but the sale of boxes preconfigured to access pirate streams via Kodi plugins and a slick user interface has animated copyright holders.
In April, the European Court of Justice ruled that the sale of media sticks preloaded with pirate streaming links and add-ons was illegal. This stance kicks in if piracy is the main purpose of such a device, the purchaser accesses a pirate box deliberately and knowingly, and the media device is being sold for a profit.
Making the pirate experience less fun is part of the strategy.
Earlier this year the Premier League and the Football Association, supported by the BBC and other broadcasters, were given the ability to order ISPs to impose real-time blocks of the streaming services for the duration of live football matches as an experiment.
Piracy monitor Muso claims that 77 million people worldwide watched Game of Thrones Series 7 Episode 1 via "streaming portals" with 6 million in the UK evading the £7.99 monthly fee for Now TV's Entertainment Pass. If that sounds a tad high, then so was the estimate by the same company last year that Amazon's The Grand Tour was the most pirated TV show ever. As ever, bring salt.
Muso says [PDF] in its annual piracy report that it extrapolates streaming data from figures provided by SimilarWeb, which draws data from traffic logs and toolbars. ®
Sponsored: Quit your addiction to storage