Want to visit your loved one in jail? How about Skype instead?
Massachusetts jail to kill off in-person meetings for more profitable solution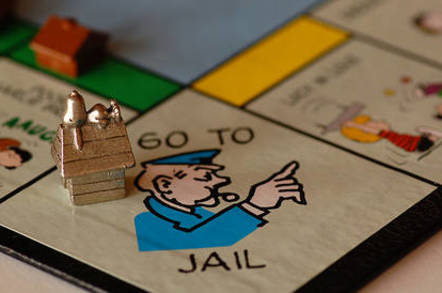 A jail in the US has taken its embrace of technology a little too far by putting an end to in-person visits – and requiring family members to video conference with their locked-up loved ones instead.
Sheriff Thomas M. Hodgson, of Bristol County, Massachusetts, took the decision to end face time at his Dartmouth cooler – and replace it with FaceTime. He will enforce the new system in about a month – a decision that has infuriated the local chapter of the American Civil Liberties Union.
"Cutting off the human contact of in-person visitation is cruel to people in jail, their families and loved ones," the ACLU argued, adding that Skype is "no substitute for being in the same room with a person you love."
Adding insult to injury, relatives will still be forced to travel to the correctional facility to speak to their jailbirds, with the videoconferences taking place in a trailer in the facility's parking lot.
That will change in the near future, the jail says, with relatives able to use their own devices such as smartphones, tablets and laptops to contact their relatives. But – and this is where many suspect the real motivation behind the decision lies – there will be a charge for that service.
The jail refuses to say how much that charge will be, raising fears it will abuse its position as a gatekeeper to make excessive profits from inmates and those who wish to talk to them.
The cost of jail phone calls has been a long-standing bone of contention; the Federal Communications Commission passed rules [PDF] in 2015 to cap the cost of such calls to $1.65 for a 15-minute call. Some jails were charging as much as $14 for the same call, while the cost for an ordinary citizen outside jail is around 50 cents - or even free with modern internet technologies.
Other limits were aimed at ending what the federal regulator called "excessive rates and egregious fees": a maximum $3 for automated payments; $5.95 for payments with a "live agent"; and $2 for "paper bill fees."
An end coming?
However that ruling is now going through in the law courts, and the new FCC leadership has told the regulator's lawyers not to defend it, arguing that the rules exceeds the FCC's authority.
The Bristol House of Correction argues that the change is necessary for its inmates' and staff's "safety and security."
"We're doing this to keep weapons and drugs out of our jail," said county sheriff spokesman Jonathan Darling. "If we can eliminate people bringing weapons and drugs into the jail, it can only work to help keep loved ones safer when they're here."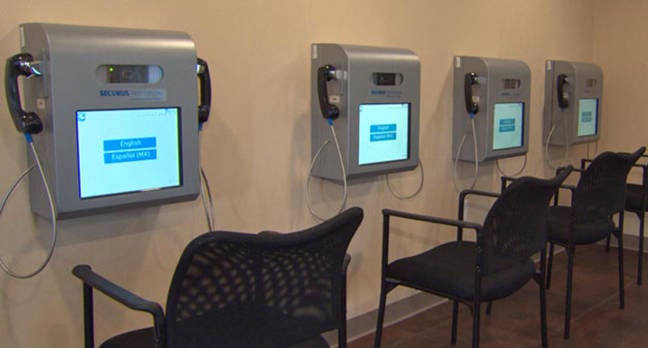 The Securus terminals that will be used at the jail.
However, all face-to-face visitations at the jail are non-contact with a large plexiglass screen between the inmate and visitor, and conversations over an in-booth telephone.
Asked how video conferencing makes that situation safer, Darling repeatedly cited the same case of a strip of suboxone – a prescription medicine for treating opioid dependence – having been found under a Band-Aid in the visitor room "hoping that an inmate worker will come through and pick it up". The Shawshank Redemption it ain't.
The prisoners will be required to use the jail's standalone video conferencing terminals, provided by Securus Technologies. Securus operates its terminals in jails across the United States who charge between $5.95 and $7.99 for a 20-minute call, with on-site calls free. Securus provides the terminals for free and takes a cut of the call revenue.
With the FCC's rules under doubt, one lawmaker in the Massachusetts Senate has put forward a new bill that will allow relatives to demand an in-person visit and cap the cost of inmate video conferences. ®