China crams spyware on phones in Muslim-majority province
On-the-spot checks by cops to ensure creepy mass surveillance tool is installed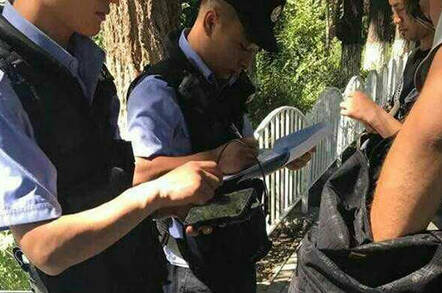 The Chinese government is requiring citizens in Xinjiang province to install spyware on their mobile phones and is enforcing the policy with police spot-checks, according to several online reports.
Reflecting a country-wide clampdown on internet usage, users of WeChat in the regional capital of Urumqi received a message on their phones earlier this month instructing them to install an app called Jing Wang – "clean internet" in Chinese.
Those who do not install the app face up to 10 days in detention, the noticed warned. And the police have been following up on that threat, according to several online posts.
One news article reported that 10 Kazakh women in the region were arrested after a group chat discussion about immigrants was picked up by censors. And at the weekend, a widely shared Twitter post showed a police checkpoint where citizens were forced to hand over their phones to be checked for the spyware.
The app is itself pretty invasive – it not only blocks specific websites, but also searches a phone's file storage for "illegal" images and can prevent the installation of other applications. It keeps a copy of chat records and Wi-Fi logins and sends them, along with phone-specific IMEI and SIM details, to a government server.
The main goal of the app is – or was – to shield minors from inappropriate content and things like viruses. However, the Chinese government has repurposed it to act as a mass surveillance tool. In the official notice sent, users were told that the app would "automatically detect terrorist and illegal religious videos, images, ebooks and electronic documents" on their phones.
What's going on
Why are the Xinjiang province and the city of Urumqi's four million residents being targeted?
That is due to the region's long-held tensions with the Chinese government based on the other side of the country. The large, remote region borders eight countries – Mongolia, Russia, Kazakhstan, Kyrgyzstan, Tajikistan, Afghanistan, Pakistan and India – and until recently its population was mostly Uighur, who are Sunni Muslims.
The region's culture and economy was built on the famous Silk Road travel route and it has a strong sense of cultural identity and independence that has sparked numerous conflicts with the Han people that dominate China.
In 1949, the Uighurs declared independence and a new country – East Turkestan – but the Chinese communist revolution squashed those plans the same year. Officially, it is an autonomous region along the same lines of Tibet.
The old tensions emerged again in the same era as the Tiananmen Square massacre of 1989, when street protests erupted in Xinjang and were brutally put down. The Chinese authorities responded in the same way they did in Beijing – by arresting and imprisoning leaders of the protest movement.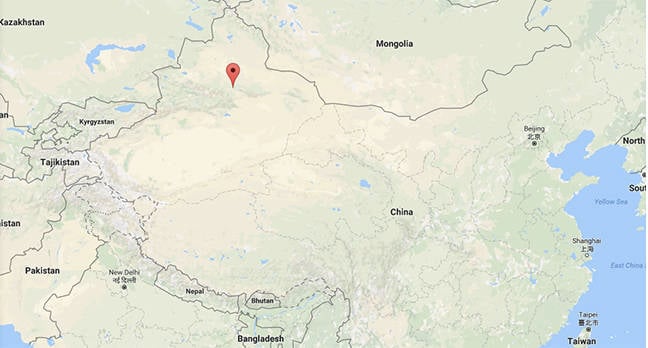 A map showing the location of the city of Urumqi in relation to the rest of the region
In 2008, in the lead-up to the Beijing Olympics, the Uighurs started protesting again. And then in 2009, rioting in Urumqi led to the deaths of 200 people, most of them Han Chinese.
The government has responded in three ways:
Encouraged mass migration of Han Chinese to the region.
Invested heavily in industry and energy projects.
Introduced policies that undercut the local culture, including strict controls on Islamic schools and the number of mosques, and restrictions on what religious practices are allowed. As just one example, in 2014 the Xinjang regional government banned Muslim civil servants from fasting during Ramadan.
The local Uighur population has increasingly complained about the influx of Han Chinese, claiming that they are being given the best jobs. A degree of economic prosperity has also built up resentment.
Bloodshed
In the past five years, the region has undergone a series of attacks and clampdowns. In 2013, 27 died when police opened fire on a crowd that was attacking local government buildings. In 2014, three died following a bomb and knife attack at an Urumqi railway station; a month later, 31 died when two cars drove through a market in the city. Two months after that, another 96 died in an attack on a police station. And two months later, 50 more died in explosions from bombs placed outside police stations and markets.
The Chinese authorities see the measures as increasingly necessary to keep the peace from violent separatists, but critics question the veracity of reports and claim that the government is exaggerating the risk in order to justify ever-greater controls on the Muslim population.
This latest focus on smartphones and online activity has been reflected across China since the introduction of new laws in June.
Last week, we reported on how the authorities had started banning not just political speech, but seemingly harmless content from outside the country. Soap operas, movies and pop stars – including Justin Bieber – were banned in order to fit with new rules that 90 per cent of content must come from within China.
That follows evidence of increased sophistication in the government censorship apparatus that was revealed when Nobel Peace Prize winner and reform activist Liu Xiaobo died earlier this month. Any mentions of Xiaobo or his wife were deleted by censors out of fears of protests.
And that followed successful efforts by the regulatory authorities to shut down VPN services, which Chinese citizens regularly use to bypass content controls. A number of VPN providers decided to shut down their services rather than agree to the government's licensing requirements – which include providing backend access to their systems and adhering to a government-provided blacklist of websites. ®
Sponsored: What next after Netezza?