I've got a verbal govt contract for Hyperloop, claims His Muskiness
World+dog: Oh no you haven't!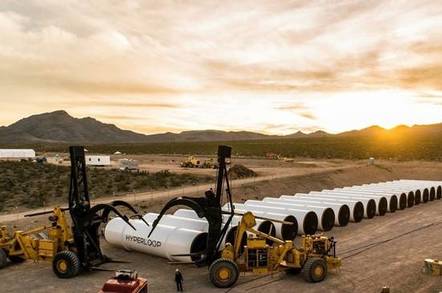 The world's best business self-publicist since Richard Branson reckons he has been given a "verbal contract" to build an unrealistic high-speed tube train system across America.
His Muskiness (for it is he) tweeted it yesterday. The announcement was met by a furious fanfare of retweets and likes on the 140-character-nugget website.
Even the American New York Times newspaper, not normally known for its scepticism towards outrageous claims by businessmen, querulously asked: "Who would pay for it? How long would it take to build? How would it be built?"
The Guardian took Musk at his word and rang round a bunch of American officials to find out if he was telling the truth about getting approval. We probably don't need to spell out what the answer was.
Musk later tweeted: "Still a lot of work needed to receive formal approval, but am optimistic that will occur rapidly." Just in any case anyone had any doubts left, he added: "If you want this to happen fast, please let your local & federal elected representatives know. Makes a big difference if they hear from you."
Hyperloop has been keeping Musk in the news while Tesla figures out how to become profitable (the firm lost $397m in the first quarter of this year) and SpaceX figures out how best to commercialise its reusable space rocket tech. The billionaire oddball owns both companies.
The concept behind Hyperloop is a superfast maglev tube transport system consisting of pods in tunnels. Victims sit in the pods and are then magnetically levitated at improbably high speeds from point to point. Musk reckons he's going to build one of these systems between New York and Washington DC and claims the journey time will be just 29 minutes for the 230-mile journey.
Back in January he said work on Hyperloop would start "in a month or so". To give him some credit, a successful proof-of-concept test of the technology took place last summer.
The Institution of Mechanical Engineers' Philippa Oldham put it best a few days ago, when the society commented on Musk's implausible plans to effectively replace the planned High Speed Two railway line with a Hyperloop track.
As an engineer, there still seems to be some gaps in the information regarding the risks and safety of the system itself. As the distance of the trials increase there will be many engineering problems to solve including that of managing track alignment. In the UK we would not be able to use any existing transport corridors at these speeds due to their lateral curvature.
"In addition," concluded Oldham, "travelling at those speeds means that any fault in the system would mean everyone on board would die." ®