NAND then there was a second growth quarter... IBM reports flash surge
A bit of goodish news from Big Blue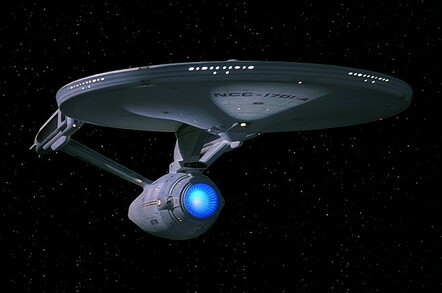 Analysis IBM's systems segment brought in $1.7bn, 10 per cent down year-on-year. Systems hardware was $1.3bn with operating systems software at $400m.
z Systems – down 33 per cent annually
Power – down 3 per cent year-on-year
Storage – up 8 per cent annually at, we estimate, $592m
CFO Martin Schroeter said: "The Power growth rate improved sequentially, but was still down. The improvement reflects our transition to a growing Linux market, while continuing to serve a high value, but declining, Unix market. Our Linux on Power revenue grew and we gained share.
"In Unix, declines were driven by our low-end and midrange systems. High-end systems grew."
Revenues in storage were "led by strong double-digit growth in our all-flash array offerings. Flash was the growth catalyst in our Storage midrange and high-end offerings. Storage hardware margins increased, both year to year and sequentially." IBM has now enjoyed two quarters of year-on-year storage revenue growth.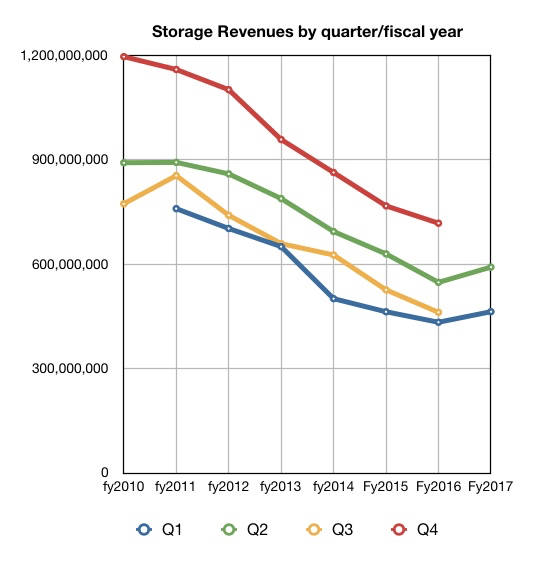 IBM quarterly storage hardware revenues, showing two most recent growth quarters
The company highlighted that z Systems' performance reflected the mainframe cycle, with a new product, the z14, introduced after the quarter ended. Storage grew for second consecutive quarter, led by flash, and gross margin expanded in z Systems and Storage; but an overall margin decline (down 3.9 points to 52.7 per cent) reflects the product mix.
IBM believes the core of storage revenues are moving to software while the growing part of on-premises storage hardware is getting focussed on flash, which is reflected in its results. There is also a growth in data being stored in the cloud and IBM's own cloud is being steadily expanded, now reaching almost 60 data centres around the planet.
Customers like Lloyds Bank (10-year agreement) and American Airlines have recently signed up for IBM cloud services.
Schroeter said: "We'll move the bank to the IBM Cloud and migrate their application suites to this infrastructure... American Airlines announced this quarter they will move to the IBM Cloud, and use it as the foundation for their digital transformation. They will migrate critical applications including aa.com, their customer facing mobility app, and their global network of kiosks.
"Across industries and around the world our clients realise that data, in fact, their own data, is the root of competitive advantage for all companies. Remember, 80 per cent of the world's data is owned by enterprises."
Comment
Are we getting a sense here that IBM is intending to gradually move some of its customers' on-premises workloads, running on x86, Power and mainframes, to its Cloud data centres, offering hybrid on-premises and (its own) public cloud, so cutting out Amazon and Azure and Google's Cloud Platform?
IT must surely prefer that its customers set on shifting to the public cloud move to an IBM version and reap benefits like lower capital costs and better flexibility as a result. Once those customers do move their workloads to IBM's Cloud, competing suppliers will have much less opportunity to invade IBM's base with their own servers and storage and software products.
Schroeter had this to say about IBM's enterprise customers' data: "It is not searchable on the worldwide web. It is customer data, patient data, clinical data, supply chain data, transaction data. And companies want to unlock and exploit that data. And so that's why enterprises will move to cognitive on the cloud with someone they trust, who has leading tools and industry expertise, and a data model and business model consistent with their goals. That is the IBM Cloud plus Watson."
No shit, Sherlock. ®
Sponsored: Becoming a Pragmatic Security Leader