UK government's war on e-cigs is over
Vape at work? Hey, why not?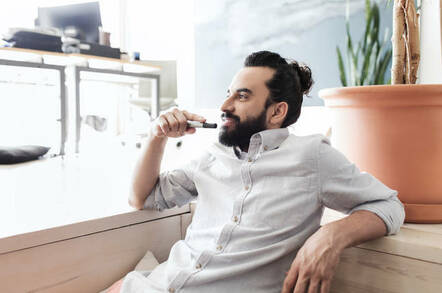 Comment The government has said that the persecution of the users of e-cigarette technology should stop. The Department of Health today outlined a Five Year Tobacco Control plan for England with the goal that the proportion of the population who smoke tobacco products should fall to 12 per cent by 2022, down from 15.5 per cent today.
Routine bans of vaping products at the workplace or in public spaces should cease, the DoH notes, in order to "maximise the availability of safer alternatives to smoking". The last Tobacco Control Plan for England was published in 2011*. Since then, there's been a grassroots revolution in public health.
Brexit provides the opportunity to re-examine the regulation of "electronic nicotine delivery systems" as alternatives to cigarettes, says the DoH, with the department vowing to "identify where we can sensibly deregulate without harming public health".
Under some post-Brexit scenarios, the UK will no longer be obliged to implement the EU's revised Tobacco Products Directive (TPD2), which regulates e-cigarettes in the same way as tobacco – attempting to make e-cigs expensive and undesirable. And this could lead to a possible liberalisation of regulation, regarding e-cigarettes as a more healthy alternative to tobacco and encouraging their adoption, further down the line.
As we explained here, the TPD2 has raised regulatory barriers to entry for the producers of nicotine liquids, made the liquids weaker and thus less effective as a cessation aid, and has bound up the market in red tape. The reason it hasn't been a catastrophe for the vaping supply chain is that the regulator the MHRA (the Medicine and Healthcare products Regulatory Agency) was told to back off while local enforcers, the Trading Standards Officers, have better things to do than harass vapers.
In other countries, notably Australia, politicians created a huge new black market for cigarettes, while persecuting vapers: a perfect storm of stupid:
Watch Australian black market cigarettes soar after price increases. Law of diminishing returns. Time for #ecigs? https://t.co/dWpUHNulba

— Alex Wodak (@AlexWodak) July 18, 2017
Meanwhile, Wales has experimented with a Panic Button in public spaces, for emergency use by "triggered" anti-vapers. The button triggers a pre-recorded message broadcast over loudspeakers, urging the vaper to stop.
By contrast, this new doc snubs public health fanatics who want to criminalise vaping, stating:
Last year, the Royal College of Physicians said that the public health strategy of harassing users of safer alternatives should probably stop. Vaping was behind the acceleration in smoking cessation, a fall far greater than the ban on smoking in pubs.
"I believe this is the first coherent statement of government-level support for embedding low-risk alternatives to smoking and the concept of tobacco harm reduction in a major policy paper anywhere in the world," writes Clive Bates, the former director of Action on Smoking and Health. ®
* Wales' Tobacco control action plan (PDF) was released in 2012; Scotland's Tobacco Control Strategy came out in 2013; and Northern Ireland's Tobacco Control Strategy (pdf) was revealed in 2012.
Sponsored: Detecting cyber attacks as a small to medium business