Imitation is the sincerest form of flattery, but perhaps whoever designed the website for storage upstart Weka.io has gone a little too far: when Reg operatives decided to read beyond our story on the company, we found its website appears to have borrowed ours!
The offending bit of Weka's site is its Fake Newspaper, "IT News Today" depicted in the file http://www.weka.io/wp-content/uploads/2017/04/Banner-1.png, which we've reproduced below or on the company's home page.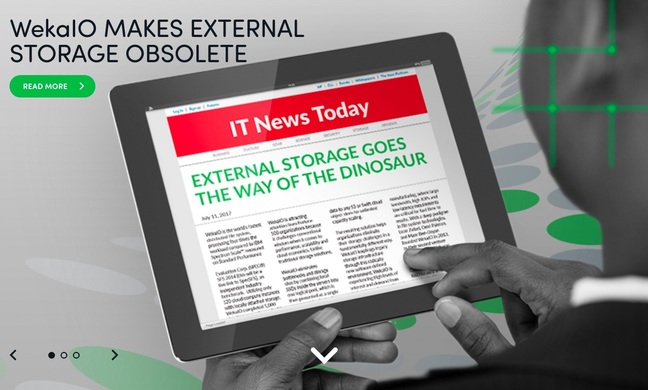 "IT News Today" and its oddly-familiar design. Click here to embiggen
As readers can doubtless discern, the scarlet masthead looks rather a lot like the one at the top of your screen.
Reg operatives being the suspicious types we are, we zoomed in on the masthead and found it's not just using our colours, but even has the same link structure: above the red box we can see clickable links to "Sign In", "Sign Out" and even to "Forums" over on the left, just like on The Register. Over on the right we see links to our M3 conference, sibling site The Next Platform and other links reproduced right here on our very own site.
Which we don't entirely dislike: we understand The Register is sometimes considered a significant chronicler of the storage industry, so having our look borrowed by a storage company feels something between fitting and flattering.
But also naughty.
The moral to this story? Make sure your web designers' work is all their own. And always assume Reg hacks are watching. ®
Sponsored: Webcast: Simplify data protection on AWS