Brit military scolded for being too selfish with sexy high-end tech
Armed forces must do more to attract innovators and put an end to demanding blueprints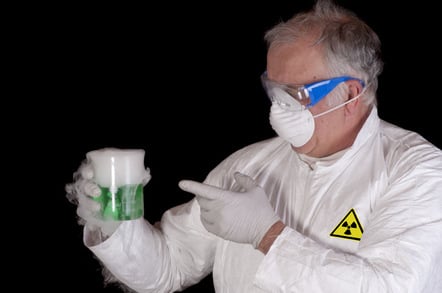 The UK Ministry of Defence needs to stop reflexively demanding rights to its suppliers' intellectual property if it is to attract more private sector tech innovators, according to the Royal United Services Institute.
In a report published on Tuesday, RUSI, the government's defence and foreign policy thinktank, criticised the MoD's current approach to adopting new ideas and technologies, branding its IP-hogging activities "a real disincentive" for private sector thinkers.
RUSI's Defence Innovation and the UK report focused on "responding to the risks identified by the US Third Offset Strategy," which is a policy wonk's way of saying, "Oh bugger, China and Russia's armed forces are catching up with our tech."
The report (40 pages, PDF) mainly discusses how the US view of defence policy can be applied to the UK, and points out how the basic assumptions behind armed forces policy are shifting relatively quickly. It's all well and good having two new aircraft carriers to dominate the high seas but if your immediate threat is Russian APT crews trying to hack MPs' emails, you're rather missing the point.
In its section titled "An emerging UK response", the report goes into a bit more detail about MoD's lukewarm efforts to attract interest from companies other than the usual suspects.
"Investments in S&T [science and technology] and R&D require a business case presenting a significant prospect of a rate of return. That private S&T and R&D spending from the defence industrial sector is limited is an indicator that industry is either receiving limited information from its main customer, or it has little confidence in the information it does get," thundered RUSI's authors.
Industry is wary of getting involved with the MoD and its reputation among potential suppliers, outside of the usual suspects such as BAE Systems, is low: last year the chief of the Motorsport Industry Association told Defence Secretary Michael Fallon that many firms in the MIA are "reticent to engage with defence".
While the MoD launched its defence innovation fund last year, promising to spend £80m a year on taking innovative technological ideas from CAD file* to production, this spending makes up just 1 per cent of planned defence equipment spending, according to RUSI. Even then, seductive visions of robot war machines blasting Her Majesty's enemies from the field of battle are probably best avoided for now, as the report states:
Currently, the MoD concentrates on technologies with high readiness levels, but a balance with emerging and adaptive technologies might offer greater utility... For example, in the US there has been some warning against focusing excessively on artificial intelligence and the man–machine interface.
Nonetheless, AI, autonomous tech in general, "electromagnetic capabilities" and "electronic warfare" are all areas that RUSI highlights as "key" for "future transformation" in defence technology.
That rules out the British Armed Forces fielding sharks with frikkin' lasers for the time being. The lasers are still being tested at the moment. ®
*Who uses drawing boards in the modern era?