AI cybersecurity startup Darktrace scores $75m, now valued at $850m
Mike Lynch-backed firm pushes unicorn status as demand soars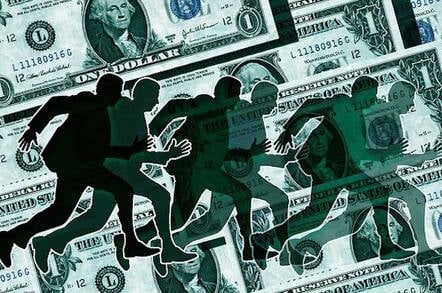 Machine-learning enterprise-focused cybersec firm Darktrace has raised $75m in order to expand its sales operations into Latin America and Asia as it prepares for a possible IPO.
The $75m Series D fundraising round, led by new investor Insight Ventures, comes a year after a $65m funding round and propels the company towards tech unicorn status (startups valued at over $1bn). Analysts value Darktrace at $850m. Existing investors Summit Partners, KKR and TenEleven Ventures also contributed to the latest funding round.
Cambridge-based Darktrace, backed by one-time Autonomy chief exec Mike Lynch, uses machine learning and AI technology to protect corporate networks against cyber threats through what it markets as an "Enterprise Immune System".
The technology creates behavioural models for users and computers on a network to differentiate between normal usage patterns and attacks, which it flags up and attempts to block. Darktrace boasts its software can automatically detect and take action against cyber threats within all types of networks, including physical, cloud and virtualised networks, as well as IoT and industrial control systems.
"It's been just four years since Darktrace was created, but in that time, the business has managed to raise $180m in four rounds, grow its employee base to more than 500 people across 24 global offices and, reportedly, generate a total contract value of $200m, up 140 per cent from last year, from around 3,000 customers," according to channel-focused analyst outfit Megabuyte.
"The business is notoriously secret about figures, but did note that the US continues to drive strong growth, with bookings up threefold. Last year's funds were used to drive this growth, but this latest investment is reportedly being put towards Latin America and Asia Pacific, as Darktrace continues to fulfil its global ambitions."
In a statement, Darktrace said it now has over 3,000 deployments worldwide, across all industry sectors, including global financial companies, telecommunications providers, media firms, retailers, healthcare providers, government agencies and critical national infrastructure facilities.
Other cybersecurity firms are hard at work trying to apply AI/machine learning to network security challenges posed by increasingly capable hackers and malware threats. Darktrace claims that its technology is the only machine learning technology to "detect and fight against in-progress threats in real time". Competitors, such as Israeli startup SecBI, claim they have leapfrogged Darktrace to offer "more advanced machine learning and AI technology than Darktrace to do similar things, but without its costly appliance and complex deployment".
"SecBI can also assist with encrypted traffic, which is a major challenge for Darktrace and other legacy network traffic analytics (NTA) companies," it adds.
Network traffic analysis is a network-based approach to monitor network traffic, flows, connections and objects looking for malicious intent. Products aim to identify, monitor and triage security events, protecting enterprises in the process. Aside from Darktrace and SecBI, other players include Lightcyber (acquired by Palo Alto) and Cisco (Lancop). ®