nbn™ hits the half-way mark – but has more than half of the job left
Signups remain at <50%, revenue isn't right and don't forget Turnbull promised we'd all be connected in 2016
nbn™, the organisation building and operating Australia's national broadband network (NBN), has passed the half-way point of its mission to re-wire the nation.
The company says that as of today "5.7 million homes and businesses are able to order a service from their retailer", which means half of all Australians can hook up.
This is an impressive feat, to be sure. But surely also one to consider is Malcolm Turnbull's 2013 promise that all premises would have access to the NBN by the end of 2016. Other NBN metrics revealed in nbn™'s third quarter results presentation (PDF) show the project has challenges.
That report, released on May 11th, 2017, tells us that nbn™ had 4,621,404 premises ready for service, but just 2,010,210 activated. Communications Minister Mitch Fifield appears to have more recent numbers, as his canned statement about the construction milestone says "more than 2.4 million premises now have an active NBN service – which is 100,000 ahead of target".
But both sets of numbers show that fewer than half of premises passed are signing up for services, an uptake rate of less than half is consistent with previous years. nbn™ has boosted marketing and advertising to improve uptake, and of course users will soon be forced off current services which should help. But for now Australia has a bill for billions, and less-than-enthusiastic takeup to show for it.
Those that do sign up for an NBN connection mostly aren't buying faster connections. Here's a slide from that Q3 presentation showing what people are buying.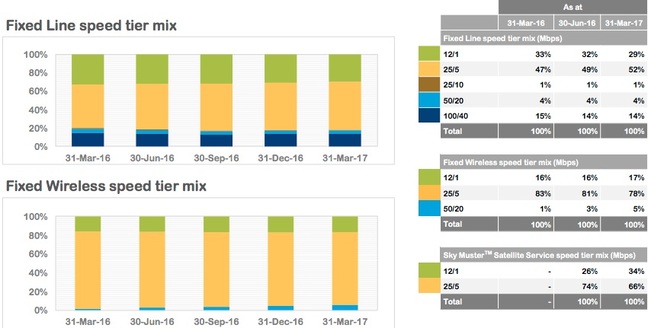 NBN speed tier adoption as of March 2017. Click here to embiggen
Fast internet's economy-boosting potential was advanced as the main reason for the NBN. Since then, folks like Netflix have found ways to stream more-than-decent video over 3Mbps.
Another number worth watching is average revenue per user (ARPU), which nbn™ wants to hit $50 per month by 2020 so it can stop burning cash and start to pay above-market-rate interest on its loan from the Australian government. nbn™'s Q3 report shows it stuck at $43, but that operating expenses hit $1.315bn and capital expenditure clocked up $4.26bn. Both numbers can be expected to fall as nbn™ moves from the construction phase to operational cruising. But other costs will rise as the company serves more users. Scaling networks is also no simple trick: another few million users will test nbn™'s NetOps chops.
Connecting the other half of Australia won't be easy, because the remaining premises include those the company has deliberately put in the too-hard basket and those that will be offered as-yet—untested fibre-to-the-distribution-point-point tech. Internet service providers, meanwhile, continue to try to get nbn™ to lower their costs they pay because wholesale charges sometimes incentivise them to degrade the user experience.
The Register is also aware of numerous reports of buck-passing between retailers and nbn™ when problems strike.
And then there's nbn™'s roadmap (PDF) which has useful-for-Reg-readers items like a business-class network termination device scheduled for "2019+". At the time of writing we're still without nice-to-haves like strong authentication!
All of which The Register mentions not to criticise nbn™ or the NBN, or to belittle today's milestone, but to point out that the project still has a lot to achieve. ®
Sponsored: Detecting cyber attacks as a small to medium business