SpaceX halts Intelsat 35e launch twice in a row
Rocket and payload just fine, try again tomorrow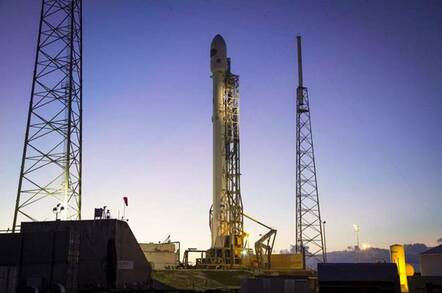 SpaceX's current launch, carrying the geosynchronous satellite Intelsat 35e, hasn't got off the ground yet: two launches in a row have been pulled at the last minute.
Elon Musk's company is trying to get its third flight up in two weeks, but it's going to have to wait for July 4.
The original July 2 launch was scrubbed by the launch computers just before liftoff. The systems detected a problem with the guidance system and its supporting hardware, the company said at the time.
The launch was re-scheduled for July 3, but nine seconds before the Bloody Big Rocket™ was lit, the computers yanked the launch again. SpaceX said the abort was due to a "violation of abort criteria".
Standing down today due to a violation of abort criteria, vehicle/payload in good health, next launch opportunity tomorrow, July 4th!

— SpaceX (@SpaceX) July 4, 2017
Unlike other recent launches, there'll be no attempt to land the launcher this time: the comms satellite it's carrying is too heavy and geostationary orbit too far away to leave the Falcon 9 any spare fuel for manoeuvring.
If successful, the launch will set a different record for the company, though: at 6.7 tonnes, it will be the heaviest payload the Falcon 9 has ever launched to geostationary orbit. ®