China pollutes ocean with bloody big rocket
Long March, short flight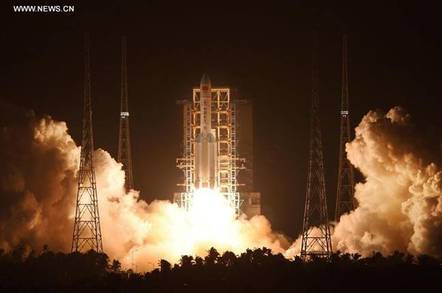 China's latest Long March-5 Y2 the launch has gone awry for reasons not yet made public.
The launch took place from a spaceport in Hainan province. The rocket was carrying an experimental satellite, and the 57-metre long booster left the launch site without incident.
Shortly afterwards, Xinhua tersely Tweeted that the launch was aborted after an "anomaly was detected".
China says launch of Long March-5 Y2 "unsuccessful". Anomaly was detected during its flight and further investigation will be carried out pic.twitter.com/qQlFVJufB3

— China Xinhua News (@XHNews) July 2, 2017
The Long March 5 lifter's next planned launch is a lunar mission: it will hoist the Chang'e 5 mission to collect soil and rock specimens from the Moon, but it's too soon to tell whether there will be any impact on that schedule.
As Spaceflight Now notes, other Long March 5 missions on the calendar include lifting parts of China's planned space station, and in 2020, a Mars Rover. ®