DRAM! Micron rakes in dosh from bits and chips
Product shortage plus high demand equals price rise driven profits rise
Memory and flash chip-maker Micron had a massive third quarter as demand growth-driven revenues led to price rise-driven profits.
Revenues for its third fiscal 2017 quarter were $5.6bn, 19.8 per cent higher than a quarter ago and a whopping 92 per cent higher than a year ago.
As you might imagine profits were boosted, rising to $1.65bn, 84.6 per cent higher quarter-on-quarter and comparing very nicely indeed with the year-ago loss of $215mn. Incoming President and CEO Sanjay Mehrotra has inherited a business doing well.
He said: "Micron delivered strong operational performance in the third quarter with free cash flow nearly double last quarter, which enabled us to retire $1bn in debt. Our results reflect solid execution of our cost reduction plans and ongoing favorable industry supply and demand dynamics"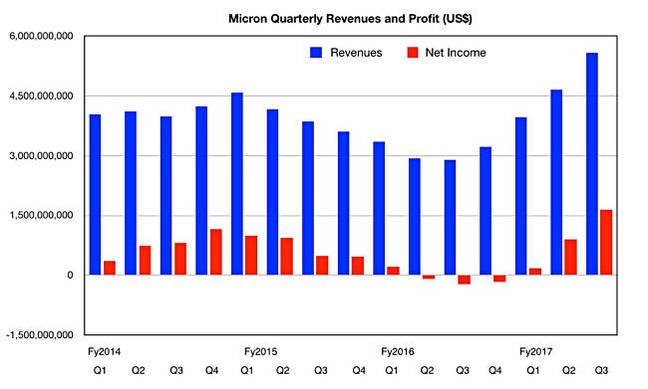 Micron quarterly revenues and net income to Q3 cy2017
DRAM was 64 per cent of the business, with server DRAM representing 30 per cent of this, up from 25 per cent last quarter. Trade NAND was 31 per cent of the business, at $1.725bn with capacity shipped up 17 per cent q-on-q. Enterprise SSD revenue was higher than that for consumer SSDs.
Micron's four business units all performed well:
Compute and Networking - where increased DRAM content per server drove enterprise revenue growth, and double digit growth in graphics was driven by consoles and GPU,
Embedded with record NAND shipments,
Mobile with 4 per cent higher q-on-q revenue growth from price rises,
Storage with doubled SSD sales to cloud customers and 26 per cent revenue growth, both q-on-q.
Mehrotra has inherited a reasonably well-run business facing strong and continuing demand for its products with a need to increase its production output. His overall task is to ride the current production shortage and prepare Micron for the next memory and NAND supply glut and price drops- these things come in cycles - so it can ride that out without suffering too much.
He has to have Micron keep up with the layering leaders in 3D NAND, in terms of capacity and cost, and turn QuantX, its version of 3D XPoint persistent memory, into a profitable product line.
Outlook
Mehrotra said this in the earnings call: "We expect healthy industry demand to persist into 2018, supported by continued strong growth in both DRAM and NAND demand, reflecting broader trends in the data center and mobile markets, as well as increased adoption of SSDs across enterprise, cloud and client PCs."
Micron expects revenues next quarter to be between $5.7bn and $6.1bn, $5.9bn at the mid-point. They were $3.2bn a year ago. Full fiscal 2017 revenues with this outlook's mid-point will be $20.1bn, a 62.1 per cent rise year-on-year, and a record.
NAND vendor shares
As an aside, Stifel has a chart showing quarterly NAND revenues by vendor with WDC+Toshiba showed separately and together, and Intel, Micron and SK Hynix: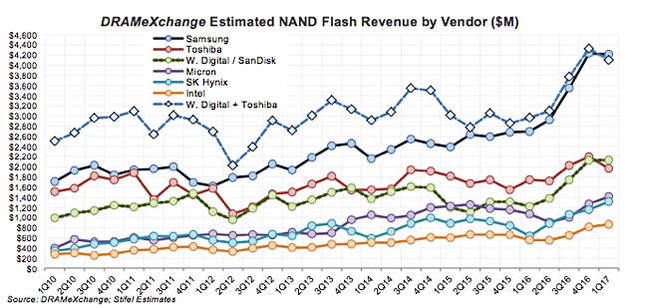 Quarterly NAND revenues by vendor
Samsung leads with WD plus Toshiba, with their joint venture's output in close pursuit. Next is WDC on its own with Toshiba on its own. Then there is Micron with SK Hynix breathing down its neck and, last of this group, Intel.
If the WDC-Toshiba joint venture unravelled then WDC would be number two by revenue with Toshiba a close third place supplier. ®
Sponsored: Becoming a Pragmatic Security Leader