Murderous Uber driver 'attacked passenger and the app biz did nothing. Then he raped me'
Toxic upstart accused of inaction on assault report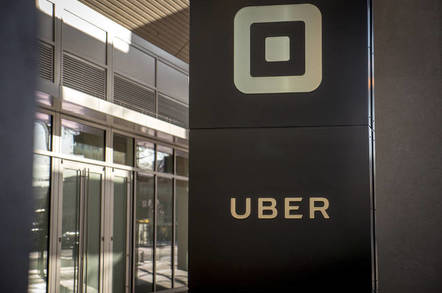 Uber is accused of ignoring warning signs about an attempted murderer who signed up as a driver and then allegedly attacked a passenger before raping another.
A lawsuit filed in Kansas City, Missouri, US, claims Yahkhahnahn Ammi sexually assaulted a customer in January this year after beating up another woman just weeks before.
The legal complaint, filed by the alleged rape victim on Tuesday, claims not only did Uber know that Ammi had a previous conviction for attempted murder under a different name – and that he had been given a 16-year sentence for beating a teen victim into a vegetative state – but that it allowed him to continue working even after the first allegation of assault came to light.
"A basic background search reveals that Ammi has a long history of violence," the lawsuit reads. "On January 29, 1996, Ammi, under his birth name Perrie D Gibson, entered an Alford plea in Madison County, Illinois, for attempted first-degree murder with intent to kill."
According to the suit, in December 2016 an Uber user in St Louis claimed Ammi assaulted a female passenger and that a police report had been filed along with a "serious incident report" to Uber. "The St Louis victim's incident report stated: 'Your driver YAHKHAHNAHN 'Yah' Ammi assaulted someone badly 12/25/16'!!," the suit reads. "He hurt the woman badly! He has a warrant out for his arrest."
It is claimed Ammi, who was inexplicably still allowed to pick up people using the app despite the assault complaint, struck again in January in Kansas City, raping a passenger – a post-grad student studying in the city.
"Uber acted with deliberate disregard for the safety of the public, including Plaintiff, in failing to deactivate Ammi's account immediately after allegations of violence were reported," the suit continued.
"Uber breached its own protocol for addressing allegations of violence by an Uber driver. Uber's own chief security officer stated that the company's policy is to deactivate a driver 'within minutes' when it receives a report of driver violence."
The lawsuit accuses Uber of negligence, negligent hiring, fraudulent concealment, violation of the Missouri Merchandising Practices Act, negligent infliction of emotional distress, intentional infliction of emotional distress, and two counts of assault and battery. In total, Uber, based in San Francisco, California, is accused of eight infractions.
An Uber spokesperson told The Register: "What's reported in the complaint is deeply troubling and something we take extremely seriously. We are reviewing the litigation."
We understand Ammi has not driven for Uber since March. ®