AWS Summit London queues caused by security, not snafu
Ultimate Britishness experience – wet, grey skies and a huge wait just to be disappointed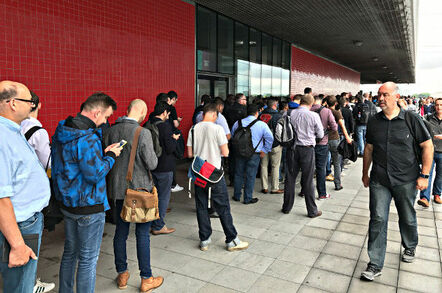 The AWS Summit in London has opened – and queues of several hundred people are already building around the venue as rumours of an IT failure on the ticket desks swirl.
Sources trapped in the queue sent us pictures from outside East London's Excel exhibition centre, where AWS Summit London 2017 is taking place. They also speculated on why the queues had built up, wondering whether a registration desk software failure was to blame.
Our reporter on the ground, Andrew Silver, said that the queues were security-related and that event staff running the security desks were admitting batches of people at a time to manage the flow. Once entrants passed security they were then allowed to proceed to registration as normal.
An Amazon rep told Vulture Central that the conference was bigger than last year's (but they would say that – Ed.) and as a result, they were trying to organise the flow of people into the Excel so as not to leave queues blocking back into Prince Regent station on the Docklands Light Railway, which has a direct entrance to the Excel.
No registration software has gone TITSUP*, we understand, though the queues are rather sizeable.

As seen by a Reg source outside the Excel centre
Meanwhile, folk who got in early seem to be enjoying themselves at the keynotes...
"ALL IN ON AWS!" DRINK! #AWSsummit

— UK Cloud Pro (@ukcloudpro) June 28, 2017
®
Bootnote
* Total Inability To Support Usual Performance, as any regular Reg reader knows.
Sponsored: Practical tips for Office 365 tenant-to-tenant migration