Ex-NASA bod on Gwyneth Paltrow site's 'healing' stickers: 'Wow. What a load of BS'
Paltrow, we have a problem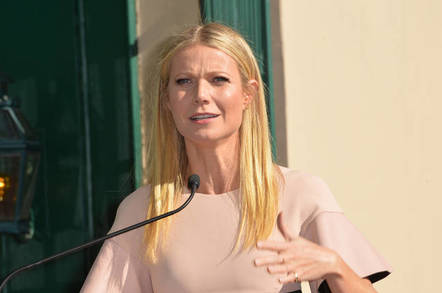 Current and former NASA scientists have called bullshit on claims seen on alternative "wellness" wallet-relieving blab-blog Goop, run by former famous actress and current linens-for-rich-ladies slinger Gwyneth Paltrow.
The "lifestyle" website – which in the past has advocated adding arbitrary amounts of iodine to your daily diet, as suggested by the site's favoured medical medium* – said yesterday that it was "geeking out" about the "healing power" of "energy stickers" it claimed were "made with the same conductive carbon material NASA uses to line space suits so they can monitor an astronaut's vitals during wear".
The website has since removed that claim but there's still plenty of pseudo-sciencey claims about energy rebalancing etc.
A 10-pack of the stickers will set you back $60 (£47 – cheap!) and are "pre-programmed" to an "ideal frequency" to tackle "imbalances".
Gizmodo spotted the unusual claim, and put it to a representative from NASA's spacewalk office, who confirmed they "do not have any conductive carbon material lining the spacesuits".
Mark Shelhamer, a former chief scientist at NASA's human research division, was similarly unimpressed. "Wow. What a load of BS this is," he told the site.
NASA also confirmed to CNN that its current spacesuit has no carbon fibres in it at all.
The $550 toilet-roll-holder seller has responded with an official statement saying the "advice and recommendations included on goop are not formal endorsements". It added: "Our content is meant to highlight unique products and offerings, find open-minded alternatives.
"Based on the statement from NASA, we've gone back to the company to inquire about the claim and removed the claim from our site until we get additional verification."
Good luck with the "additional verification", goopsters. ®
*Seriously, he "converses with a high-level spirit" about medical problems.