It's fluffy bottom line time at Adobe. That's a good thing, if you were wondering
It's raining money from that sweet, sweet cloud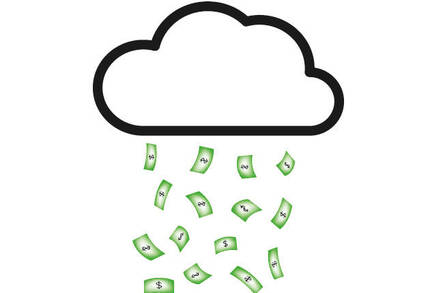 Adobe has locked customers into its cloud services, and the fluffy white stuff has continued to, well, fluff up both its top and bottom lines.
Total revenue for Adobe's second quarter of fiscal '17 ended 2 June was $1,77bn, up 26.7 per cent year-on-year - beating analyst forecasts - and rising 33.1 per cent for the six month period to $2.867bn.
Subscription sales jumped 37 per cent to $1.48bn, offsetting product revenue declines of 13 per cent to $172m and a one per cent dip in services and support to $117m.
The reassuringly expensive developer of software credited the Digital Media segment of its portfolio for the sales spike: it shot up 29 per cent in the quarter to $1.21bn. Within this, Creative Cloud was up 34 per cent to $1.01bn.
In Digital Marketing, some $495m of Adobe Experience Cloud sales were turned over, up 29 per cent year-on-year.
With his sales cap squeezed onto his head, Shantanu Narayen said his firm was still doing well off the back of "digital transformation" for "creatives pros, businesses, government and educational institutions".
Adobe forced people to take the cloudy route in 2013, and though there was plenty of kicking and screaming from customers at the time, nobody seems to be complaining much these days.
Creative Cloud and Document Cloud pulled Adobe's Digital Media Annualised Recurring Revenue to $4.56bn (in part from stocks, new user attraction, less piracy and migration from old products). That's a 29 per cent year-over-year growth.
"It does just keep creeping up," said CFO Mark Garrett during a call with financial analysts. He admitted that it will probably never be 100 per cent, but "it's going to keep going up a bit."
Operating profit jumped to $504m, up from $334m and net profit was $374.9m from $244m. For the half-year, profit leaped 49 per cent to $973m. ®