The Internet of Flying Thing: Reg man returns with explicit shots
A flight to nowhere, complete with streaming Netflix
Gratuitous aviation geekery with a spot of Internet of Things (pic heavy)
Honeywell's aircraft for our flight was its very own flight testbed, registered N757HW. Originally built in 1982 and delivered to Eastern Airlines, after a stint with a British operator the Boeing 757 was bought by Honeywell and refitted for its new life as a flight testbed.
As well as the recent addition of Inmarsat's GX Aviation satellite broadband kit, the aircraft is most notable for having a third pylon on her right-hand side, as pictured above.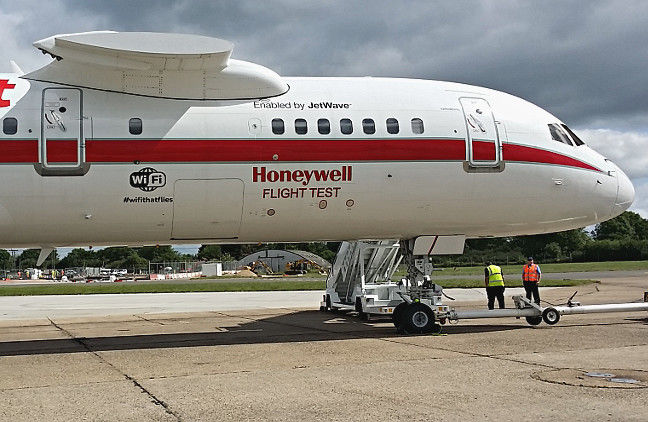 Another view of the test engine pylon
This was used a few years ago for testing small(er) bizjet engines, with a host of data-gathering boxes being bolted inside the fuselage to capture and process test data.
Speaking of the fuselage, aside from the first four or five rows – what used to be the first class seats – it's been completely gutted and had test and monitoring equipment installed instead.
We were also told about some of Honeywell's Internet of Things efforts (look, boss, this isn't just me geeking out over aviation, it's work related too!) courtesy of an up-close look at the landing gear.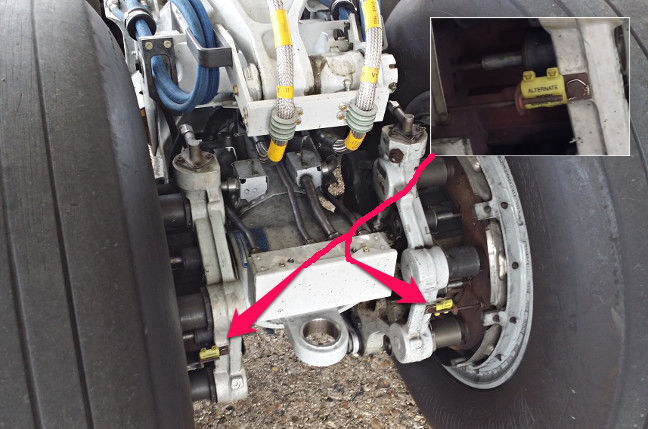 The starboard main landing gear. Inset: the brake condition monitoring pin
The highlighted pin helps crews monitor brake pad wear. Honeywell is working on an app that allows flight or maintenance crews to take a photo of the pin, against the yellow tag, and upload it into the app, which then tells the crew whether or not the brakes need attention. It's a little prosaic – current brake pad monitoring, similar to your car tyres, simply involves measuring how much tread is left – but if the concept can be applied to other items, Honeywell may well find themselves onto a winner in the cost-conscious world of aviation Maintenance, Repair and Overhaul (MRO).
In flight, Honeywell operated an open cockpit philosophy. With all the passengers being known to them well in advance, we were cordially invited to wander in once the seatbelt sign was off and even chat to the flight deck crew, courtesy of the spare headset on the jump seat. They seemed a little nonplussed by all the highly excitable folk standing behind them and making like Japanese tourists with their cameras and smartphones, but were nonetheless very welcoming and happy to explain what the gauges and knobs did.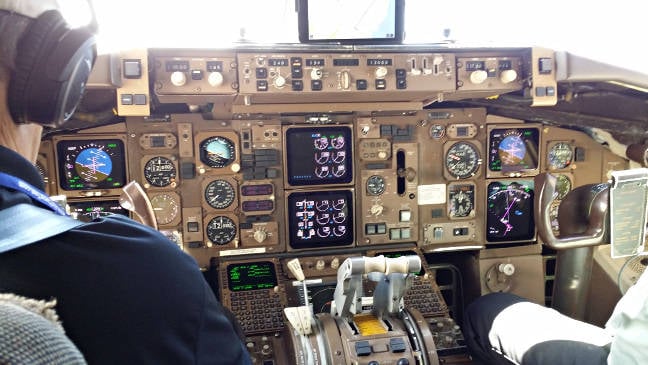 The mostly original flight deck of N757HW. Note the offset thrust levers - your correspondent was told this was due to slack in the linkages rather than aerodynamics. The aircraft is fitted with a standard autothrottle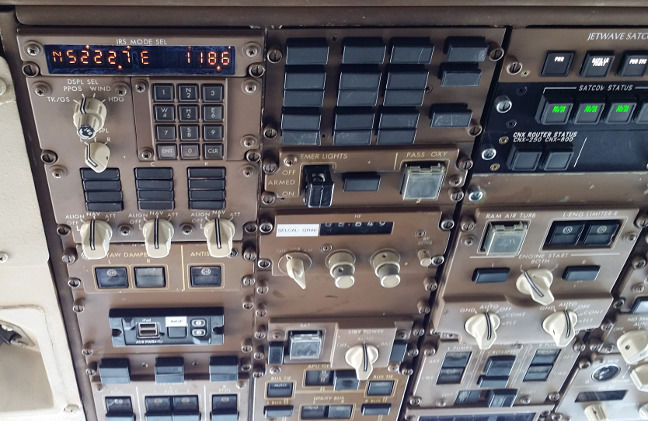 The captain's side of the overhead panel. Spot the part modified for modern times! Click to embiggen (WARNING: 700kB/3,000 pixels)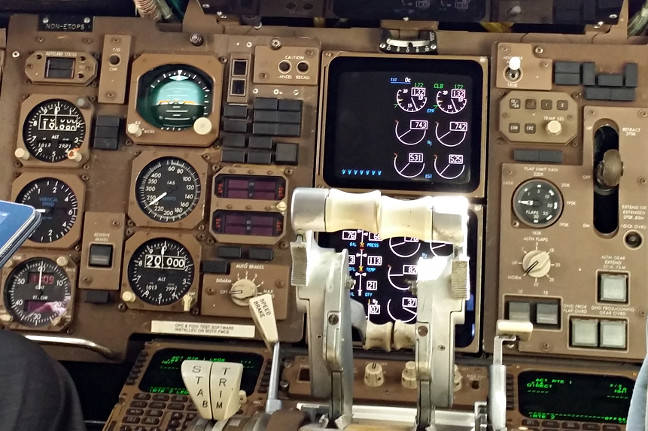 240kts, FL200, somewhere over Lincolnshire. Note the "non-ETOPS" placard - extended range operation with twin engines
For reasons we weren't privy to, Dubai 1 – the Emir of Dubai's answer to Air Force One – arrived at Stansted while we were taxying out, parking alongside what appeared to be US Air Force Two.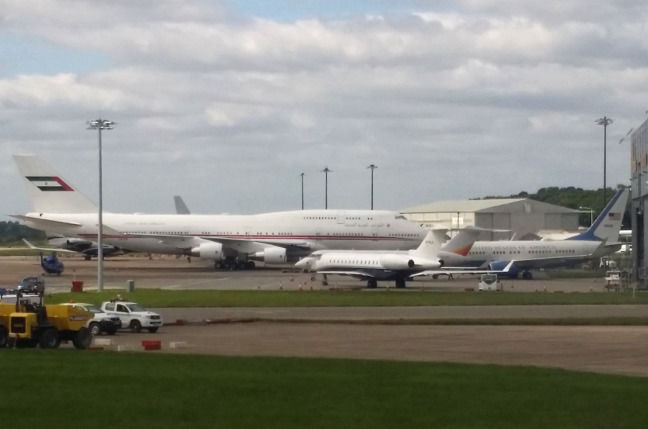 Dubai One, the white Boeing 747, along with US Air Force Two, the Boeing 737 to the right
If we hadn't all been plugged into headphones that were tuned to the Honeywell 757's onboard radio (receive only – no asking Victor for his vector, sadly) we would probably have mistaken Dubai 1, and her plummy-voiced British captain, for a surplus airliner being moved to long term storage.
For a flight that departed from and returned to Stansted, it was certainly a break from the norm. ®