Judge holds Uber's feet to the fire over alleged Waymo tech theft
Oh yes, you will hand over those documents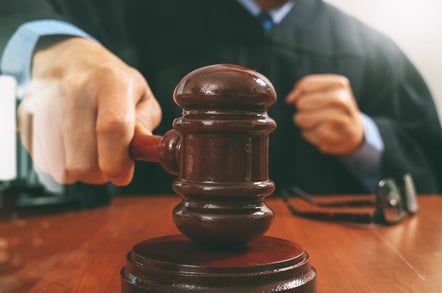 Analysis A California judge is not taking any nonsense in the ongoing self-driving tech theft case between Uber and Google-owned Waymo.
Magistrate Judge Jacqueline Corley ruled earlier this month that Uber must hand over what may be critical due diligence reports in the case.
She was immediately faced with a wave of letters, legal filings and refusals from not only Uber, but also the company hired to write the report – Stroz Friedberg – the company it was digging into – Ottomotto – and the engineer at the center of the storm, former Waymo lead engineer, Anthony Levandowski.
But Corley is having none of it and on Wednesday threw those complaints back, noting that "Uber has now abandoned its attorney-client privilege objection to production of the agreements." She referenced the objections, went back to her original judgment and noted: "It is so ordered."
That abandonment comes after Uber fired Levandowski for refusing to hand over documents that the court demanded that Uber supply. Uber gave him 20 days to change his mind – something that seems unlikely given Levandowski continues pleading the 5th to avoid potential self-incrimination.
The "specialized risk management firm" that wrote the report, Stroz Friedberg, also hired its own set of lawyers to fight against the order, who then argued that the documents are privileged, and it will only produce them with permission from Uber, Ottomotto, Levandowski and Ottomotto co-founder Lior Ron.
It denied it was obstructing Waymo in retrieving stolen files, but also hedged its bets by noting that it "will comply with any order of this court directing production of some or all of the requested materials."
That letter seemingly sparked Judge Corley's repeat order [PDF] to hand them over, although she also notes that Uber's objections to her order are "currently pending with the district court."
And why
Why the huge fight over the due diligence documents?
Because they contain the results of Stroz Friedberg's investigation into Levandowski and Ron, including a review of their digital devices and cloud storage. There is little or no doubt, at this stage in the court battle, that Levandowski left Wamyo with a storage device containing no fewer than 14,000 highly confidential files covering its Lidar technology – a critical component of self-driving cars.
Waymo alleges that Uber not only knew about the theft of those documents, but that its executives bought those trade secrets by creating an elaborate premise whereby Levandowski set up a new company called Ottomotto, which Uber then subsequently bought for $680m.
Uber claims it never knew about the stolen files. But if the Stroz Friedberg report includes any references to the blueprints, it blows apart that defense and potentially leaves Uber open to huge punitive damages.
So it's safe to say that Uber, Ottomotto and Levandowski would rather the due diligence reports stay under wraps.
With Corley refusing to give ground, the decision now rests with district judge William Alsup. And while Alsup has gone out of his way to be fair to Uber, he has consistently ruled against it. It's also worth noting that at the same time as Corley's order, Alsup also put out an order [PDF] noting that he was "concerned that counsel in this action are not moving fast enough to complete depositions."
It was also Alsup who referred the case to the US Attorney's Office to look into possible criminal charges. In short, Uber has, for the second time in a week, hit a bit of a brick wall when it comes to societal expectations of corporate behavior. ®