Toshiba bowls out small but nippy enterprise spinner
Power-sipping 900GB, 15,000rpm disk drive
Toshiba has a high-speed enterprise disk drive that ships data 20 per cent faster than the model before it.
The 2.5-inch form factor AL14SX is an update on the prior AL13SX, launched in March 2015 with capacities of 300GB, 450GB and 600GB.
The AL14SX spins at 15,000rpm and uses a 12Gbps SAS interface. Capacities are 300GB, 600GB and 900GB, a 50 per cent increase. It is an enterprise, mission-critical drive for 24/7 use in data centres.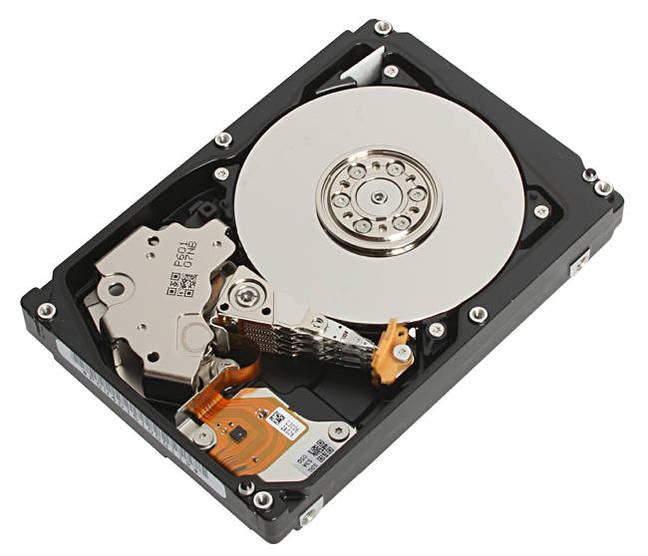 Lid-off view of the AL14SX
Toshiba does not reveal the platter and read/write head count but a publicity photo indicates there are four heads and thus two platters. That means 450GB per platter. The maximum sustained transfer rate is 290MiBps, 19 per cent faster than the AL13SX, and there is a 128MiB cache.
It averages 2.0ms latency and has a 2 million hour mean time between failures rating. There is a persistent write cache and an instant erase option. This AL14SX has a 28.7 per cent improvement in power efficiency (W/GB) over the AL13SX.
Seagate has a 15K 2.5-inch Enterprise Performance drive, launched in October 2016, that also has 300GB, 600GB and 900GB capacities. It has three platters and six heads at the 900GB capacity level, which suggests Toshiba has an areal density advantage.
WDC's July 2014 Ultrastar C10K1800 is a 10,000rpm, 12Gbps SAS 2.5-inch drive offering 300, 450, 600, and 900GB, and 1.2 and 1.8TB capacities with four platters, meaning 450GB/platter.
Seagate small form factor drives
The AL14SX contrasts with Seagate's latest enterprise 2.5-inch drive, the Enterprise Performance 10.9K, which spins at 10,000rpm and has a 16GB NAND cache to speed data transfer, making it a hybrid or SSHD (solid state hard drive). Its previous Enterprise Performance 10.8K product generation did not feature a NAND cache.
Generally Seagate's flash-cache-enhanced disk drives have been used for notebook and desktop computers; for example, the Laptop SSHD and Laptop Thin SSHD.
Seagate did try a 600GB Enterprise Turbo SSHD in June 2013. It spun at 10,000rpm and used a 6Gbps SAS interface. Now it has returned to the enterprise SSHD fray with the Enterprise Performance 10.9K.
The company has also just introduced 2TB and 4TB external Game Drives for Microsoft's Xbox One console as well as a 2TB Game Drive for the PlayStation 4. ®