IBM warns itself of possible outages in lab shift screw-up
Big Blue shoots self in foot... has Theresa considered a career change?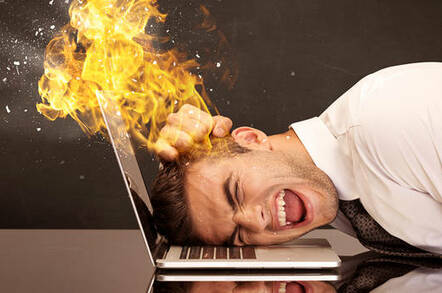 A cost-cutting measure at IBM to shift a hybrid cloud lab to a new location has itself been scuppered by a cost-cutting measure, insiders have told The Reg.
Big Blue's moneymen in the accounts department have given a last-minute reprieve to a facility in Austin, Texas, which houses engineers that run workloads internally for IBMers.
The lab was due to relocate at the end of this month to an as yet unnamed site but Bill Serencsics, development manager at IBM Cloud – who manages a team of software engineers running IT ops – confirmed to staff in a 6 June memo that was no longer the case.
"Due to IBM Finance freeze, [the] closure of hybrid cloud labs in Austin has been temporarily postponed," he said, adding that the "new deadline" was "to be determined".
A shift of the US lab, along with the closure of a European equivalent in Rome, was to take place on 30 June, IBM stated last month in a separate communication to employees. The Rome move seems to still be going ahead.
The IT services provided by those facilities included virtual systems, control desk, software configuration management, build automation, ID build automation, appscan source vulnerability scanning, and continuous delivery with UrbanCode Deploy.
In the earlier memo, Serencsics highlighted the decision to "vacate the Rome and Austin labs" and that the move would "only impact hybrid cloud physical and virtual assets and workloads".
"During this move of services it is inevitable there will be significant service outages, the duration of which again are still to be determined. Also be aware that in some cases there may be a reduction or elimination of service as we focus on streamlining our operations," said Serencsics.
He said IBM will "do what we can" to give staff lead times on service reduction news, and urged employees "please let us know if this service interruption (some services possibly up to two weeks) could be a major impact to your product release schedules".
IBM has been in cost-cutting mode, making numerous rounds of redundancies across the business and clamping down on expenses. The company hasn't grown in 20 straight quarters.
El Reg asked Big Blue marketing magicians why the labs are moving to new homes, what caused the delay to the Texas switchover and where the new facilities on both sides of the Atlantic will be based.
IBM refused to comment. ®