Live blog: Fired FBI boss spills the beans to US Senate committee
Grab the popcorn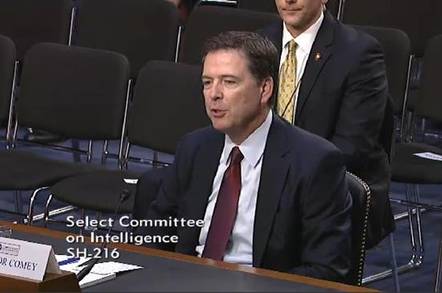 Washington is gearing up for a potentially explosive session, as former FBI director James Comey gives evidence in front of the Senate Intelligence Committee over his dealings with President Donald Trump.
Since his surprise firing last month, Comey has kept his mouth shut – although certain details have been leaked by his chums – and has insisted that any testimony he gives must be in public. As is traditional, he released his opening statement [PDF] 24 hours ahead of time, and the document is causing consternation.
Comey says he had nine one-on-one conversations with President Trump in the four months before his dismissal, compared to two in the eight years of President Obama's terms of office. He also meticulously recorded his contacts with the president, in one case writing a memo to FBI management in the car on the way back from dinner at the White House.
"The President said, 'I need loyalty, I expect loyalty'," Comey states. "I didn't move, speak, or change my facial expression in any way during the awkward silence that followed. We simply looked at each other in silence. The conversation then moved on, but he returned to the subject near the end of our dinner."
Comey also alleges that Trump asked him to drop the investigation into his former National Security Advisor Mike Flynn, and wanted a swift resolution to investigations into Russian influence in the election to "lift the cloud" of suspicion that was harming his ability to make deals for America.
This statement is somewhat problematic for President Trump, because he has denied that he made any such request. Like Bill Clinton before him, Trump may find that a quick answer to a journalist could come back to haunt him.
Anticipation is high that Comey will release a few bombshells and that Trump might respond on Twitter. One bar in Washington is offering a free round to the house if the president comments on testimony on the micro-messaging platform, but as Trump is giving a speech to the evangelical Faith and Freedom Coalition during Comey's talk, punters might be disappointed.
Comey's a tricky character, as slippery as Sir Humphrey Appleby when he cares to be, but eloquent when he so chooses. While never a popular character, Comey does appear honest, and we'll be live-blogging the hearings here at Vulture West. You can follow the progress and watch live footage here.
0942 Pacific Time Senator Warner also thanks Comey and says he looks forward to the closed session. That's all folks!
0939 And now the session is wrapping up. There will be a closed session at 1300 ET (1800 UTC). Senator Burr thanks Comey for his testimony.
0937 Comey said that Trump was trying to establish a quid pro quo situation with him over the Flynn investigation. McCain questions why, in that case, Comey didn't ask for clarification. Comey said it was not relevant to the conversation at the time.
0935 Trump doesn't mention Comey in his speech but does go off on a tangent that sounds suspiciously like it is on his mind: "They will lie, they will obstruct, they will spread their prejudice and hatred – but as the Bible tells us – we know the truth will prevail."
0933 Comey said that he cleared Hillary Clinton over her emails on July 5, 2016 because the investigation was "done." Senator John McCain (R-AZ) disagrees, saying there were plenty of Americans who thought that, with the Russian involvement in election hacking so prominent, the case wasn't done.
Comey replies that the Clinton investigation was into whether she broke the law in running a private email server. McCain said he thought that was a double standard.
0930 Trump is on stage at the Faith and Freedom Coalition's Road to Majority Conference at the Omni Shoreham Hotel, a 15-minute drive from the White House in the opposite direction of Congress (5 minutes if you have a motorcade).
0927 Comey says he "doesn't buy" the initial explanation for why he was fired. He believes he lost his job because the Russian investigation "irritated" the president.
0922 Senator John Cornyn (R-TX) asks if it isn't unreasonable for a president to want reassurance that he isn't under investigation. Comey says yes, but if the FBI later opened an investigation it would have to correct that statement.
0918 Asked if the best way to get an investigation stopped is to fire the FBI director, Comey looks perplexed, then says he wouldn't understand that but he's biased.
0913 Correction: We've found a livestream of the event where Trump is speaking and he has yet to take the stage. Currently Senator David Perdue is talking; Trump is up next.
0912 The Republican Party's defense of Trump has started to emerge even while Comey is being grilled: Trump is "new to this" and wasn't aware that his conversations with Comey were inappropriate. That suggests the AG didn't pass on Comey's complaints about the president wanting one-on-one time.
Speaker Paul Ryan also told the Associated Press that the "FBI director needs to be independent." A sign that Comey's testimony will be picked apart for possible partisan points.
0910 Senator Kamela Harris (D-CA) raises a chuckle by asking if a robber holding a gun to your head and saying, "he hopes you will hand over your wallet," the inference is pretty clear. Comey cracks a smile.
0907 Comey refuses to answer whether Flynn lied to investigators, asking to discuss that in closed session.
0905 While Republicans focus on Comey admitting he leaked details of his meeting with the president, Democrats are all over the fact that Comey said he knew that Attorney General Jeff Sessions was likely to recuse himself from the Russia investigation ahead of time. When pressed on those points, Comey said he could only answer in a closed session. Needless to say, this has sparked speculation.
0901 When asked if he believes Trump was trying to obstruct justice over Flynn, Comey says he doesn't know, that's for special counsel Robert Mueller to decide. He also refuses to comment on whether there was collusion between Trump staff and Russia.
0857 Comey says that if tapes exist of his dinner with Trump, he's happy for them to be released and gives full consent for them to be in the public forum.
0854 When asked again about the Democratic AG asking him not to refer to the DNC hacking case as an investigation but as a "matter," he says it troubled him but he agreed because he knew the press would still call it an investigation.
0853 Remember Bill O'Reilly? He used to be the US' most watched TV host before Fox fired him following allegations of sexual harassment – yeah, that guy. He is watching and he focused on Comey admitting he leaked details of the Flynn meeting with Trump:
Outrageous for an FBI director to do this when he hasn't even given the memos to the Senate committee. Leaking anyone?

— Bill O'Reilly (@billoreilly) June 8, 2017
0851 Senator James Lankford (R-OK) asks if anyone other than Trump asked for the FBI to drop the Flynn investigation. Comey says no. But when the president looks you in the eye and asks you to drop an investigation the message was clear, but that he kept it from his team to avoid prejudicing the case.
0845 A touch of history. Comey is asked if Trump's comments over Flynn echoed the death of Thomas Becket with Henry II's cry of "Will no one rid me of this troublesome priest?" He agrees.
0843 Trump supporters are jumping on the fact that Comey admitted to leaking his notes about the meeting in which Trump asked him to end the Flynn investigation. Comey said he provided the information to a friend (a professor at Columbia University) to provide to the press.
Asked why he didn't provide the information himself directly, he said he feared it would be "like feeding seagulls at the beach." To Trump supporters it is a sign of dirty politics. For the record, Comey's friend who leaked details of the Flynn meeting is Daniel Richman, a Columbia Law professor.
0841 Russia will not stop hacking US elections and will in fact ramp up their efforts, Comey says. It's going to get worse before he gets better.
As for Trump's denial of asking for the Flynn investigation to be stopped, Comey was asked if that statement was true. Comey says Trump wasn't telling the truth.
0836 Once again the Republicans ask if Comey told Trump three times that he wasn't under personal investigation. This is something that Trump referenced in his letter firing Comey, and it appears that the GOP wants to make this the talking point.
0835 Trump has reportedly started his speech on the other side of Washington, DC. Still no tweets. Trump may be quiet, but his son is tweeting up a storm. He is not a fan of Comey, you'll be surprised to hear.
So if he was a "Stronger guy" he might have actually followed procedure & the law? You were the director of the FBI, who are you kidding?:joy:

— Donald Trump Jr. (@DonaldJTrumpJr) June 8, 2017
0831 Comey is asked why anyone should believe his account. He replied that people should look at his "consistency, track record, demeanor, and record over time." The decision by Trump to get everyone else out of the room before asking him about Flynn should be noted, he said.
0829 Senator Martin Heinrich (D-NM) asks if Comey thought that if he had pledged his loyalty during his dinner with Trump he'd still have his job. Comey says he doesn't know.
But as for hacking by the Russian government, Comey says there is "no fuzz on this," it happened and that's not fake news. But he says that President Trump never brought the hacking situation up after his January 6 briefing, unlike Obama.
0825 Collins asks why he didn't get the White House counsel's office to explain to Trump to stop being inappropriate. Comey says he did, both with the AG and deputy AG.
He said that writing up the memos documenting his conversations with Trump was the result of a "gut feel" that to protect the FBI, he must make records of his meetings. He said that after Trump's tweet saying Comey should hope there weren't tapes of his meeting, he decided to share his memos with a good friend at Columbia Law School so that they were on the record.
0819 Senator Collins (R-ME) asks Comey to confirm that he told Trump he wasn't under investigation three times. He confirms that, saying he wanted to reassure Trump that he wasn't facing a J Edgar Hoover situation – where the FBI tried to threaten the executive.
0815 Comey's introverted personality may not help him under scrutiny. His counterparts had refused on Wednesday to say whether President Trump had asked them to intervene in the Russian investigation, but pointedly noted that they did not feel "under pressure" to act. But Comey stresses that he felt the president saying that he "hoped" he would end the Flynn investigation and "asked" if he could end related Russian investigations was, coming from the president, akin to an order. Will we see a Trump tweet accusing Comey of being a "snowflake"?
0812 Comey said that he didn't have much contact with the Attorney General because the FBI expected that he would have to recuse himself from any Russian investigation, which happened shortly afterwards.
0809 Senator Ron Wyden (D-OR) takes the mike, saying Comey's firing "stinks." Wyden's no fan of Comey and is a tricky questioner. This could be interesting.
0807 Still no tweets from Trump. Did his PR team destroy his phone?
0802 Marco Rubio (R-FL) asks Comey why he didn't tell Trump he was being inappropriate. Comey says he was stunned.
Comey says that Trump was uncertain about the current FBI director Andy McCabe because his wife contributed to the Democratic Party. Comey reassured him that McCabe was a pro and it wouldn't matter.
0756 NSA cheerleader Dianne Feinstein (D-CA) tells Comey, "You're big and strong," so why didn't he tell Trump he was being inappropriate? Comey said he was stunned by the meeting, and wished he could have done better.
He said that he was "slightly cowardly" in not telling Trump he wouldn't drop the investigation into Russian collusion, saying instead "we'll see." By lucky chance, his deputy was in the room when he took the "unexpected call." He said his colleagues were "shocked" by the request, but that they kept it from the investigative team for fear of polluting the case.
0751 Comey says he wasn't directly ordered to drop the Flynn investigation. He says he took it as a direction – "that this is what he wanted me to do." When the president asks something like that, Comey inferred that he was being directed.
Trump's words: "I hope you can see your way clear to letting this go." He did not direct Comey, he did not order Comey to let it go – points out one Congressman. Hence no obstruction of justice.
Our relationship did not get off to a great start given the conversation I had to have with him on January 6, says Comey. He's referring to telling Trump that the media and intelligence services were reading a report which included the allegation that he had asked prostitutes in a Moscow hotel penthouse to urinate on a bed and themselves.
0748 It's been said repeatedly, but the level of unease that Comey felt toward Trump is really remarkable. Comey admits he purposefully wrote his meeting memos to not include classified information so they could be shared at a future date. He expected today's hearing to happen at some point.
0745 Comey says that Trump told him three times that his job was secure, but that his common sense told him that Trump was trying to get him to play ball if he wanted to keep his job. The reason Congress gave the FBI director a 10-year term, he said, was so that it would be independent.
The statue of justice has a blindfold on it because you don't expect it to be peeking out for its patron's approval, he said. He said that having one-on-one meetings with the president was so unusual that he wrote a memo about it, as it was a "disturbing development."
0737 Comey said he took notes of meetings with Trump because of "the nature of the person." He said that he was concerned Trump would lie about the meetings and so wrote everything down.
He didn't feel the need to document his two meetings with Obama, or his one meeting with President Bush, when he was deputy Attorney General, but with Trump he wasn't secure that his words wouldn't be misrepresented.
Comey has made repeated references to how he did not trust Trump personally. An extraordinary thing for the former head of the FBI to say in public testimony.
0735 Comey says he was asked by the then-Attorney General not to call the Hillary Clinton case an investigation, but to call it a "matter." Comey said that disturbed him and inspired him to go public.
So far, no tweets from President Trump. He is giving a speech at the Faith and Freedom Coalition in a different part of Washington, DC. In the past, Trump has given live commentary while watching TV. No doubt White House staff are hoping they can keep him away from a TV until the hearing is over.
0732 The first Russian hacking case came to his attention in 2015, Comey says. It was a "massive effort to target government and non-governmental organizations," saying hundreds of groups were targeted. He told the government of the time about the "massive spear phishing campaign."
In the DNC hacking case they didn't get access to the hacked hardware itself, but they got the information they needed by the spring of 2016.
0727 Comey says he doesn't regret announcing that Clinton's email investigations didn't warrant further action. It has caused him personal pain, but no regrets. He refuses to answer a question about the Steele (golden showers) document. He says he will discuss in closed session.
0724 Comey says he has no doubt that the Russians did hack the DNC, did try to influence the election, and that the orders to do so came from Putin. He also says he has seen no evidence that the actual voting machines were hacked.
0720 Comey says he won't read out his statement but will make a brief comment. He said that Trump's decision to fire him "confused me and increasingly concerned me" because Trump had told him repeatedly he was doing a great job.
He said that the FBI had been lied about when Trump's associates said the organization was in disarray. "That was a lie," he said. "The FBI is honest, strong, and is and always will be independent. It was the honor of my life to be part of the FBI family."
0718 Comey stands and takes his oath. Camera shutters go wild. Finally he can testify.
0715 Warner claims Trump appeared to threaten Comey's job unless he dropped the Flynn investigation. Comey has barely moved a facial muscle since sitting down – he has a wicked poker face.
0711 Senator Mark Warner (D-VA), vice chairman, states that these hearings are about Russians attacking America "not with guns" but with online influence. With elections coming up, he wants to get to the bottom of whether the elections were influenced. Warner says he has disagreed with Comey on many issues, but he does "speak truth to power, even at risk to your own career," and he respects his intelligence and honesty.
0705 Senator Richard Burr (R-NC) welcomes Comey to the hearings and reminds Congresscritters not to ask questions that could harm national security. There will be a closed session at 1300 ET for that kind of stuff. He says questions should not "be tainted by partisanship." Good luck with that.
0700 Expect a lot of boring procedural stuff at first, but then we have three hours of testimony. It's going to be a long morning and things are already starting late.
0645 People have been queuing up since the wee small hours, trying to get a ticket for the hearings. Thankfully for the rest of us the hearings are being streamed, although the aging systems at C-Span are likely to be put under serious pressure. ®