Donald Trumped: Comey says Prez is a liar – and admits he's a leaker
Testimony paints lurid picture (and we're not talking golden showers)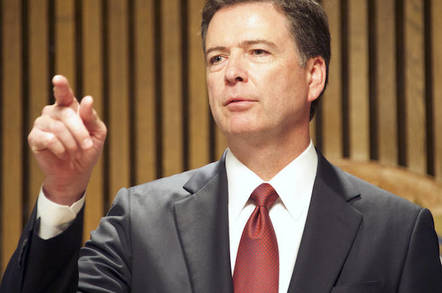 Analysis Former FBI director James Comey today spoke in public for the first time about his relationship with President Donald Trump, and he didn't stint in calling out the Leader of the Free WorldTM on being economical with the truth.
At a hearing in Washington DC, Comey claimed the president asked for a personal loyalty oath at a private dinner after he assumed office. He sought to establish a quid-pro-quo relationship that would see the director keep his job in exchange for dropping the investigation into former National Security Adviser Michael Flynn's connections with Russia – a claim Trump denies:
Comey said that his relations with Trump were unusual. He had nine one-to-one conversations with the president in four months – three in person and six on the phone – compared to two in the eight years of President Obama's terms of office and one with President Bush when Comey was US Deputy Attorney General.
He told the US Senate Intelligence Committee that the oddity of having that much contact, combined with Trump's reputation and his own "gut feeling," prompted him to carefully document every meeting with the president in a series of memos, which are right now in the hands of special counsel Robert Mueller.
"I was honestly concerned that he might lie about the nature of our meeting and so I felt it important to document," he testified.
And he didn't stop there. Comey didn't mention the unfortunate circumstances of his firing directly – he was addressing FBI interns about job opportunities in the service when TV screens behind him flashed up the news – but he took serious issue with how the administration characterized his departure.
"The administration then chose to defame me and, more importantly, the FBI by saying that the organization was in disarray, that it was poorly led, that the workforce had lost confidence in its leader," he said.
"Those were lies, plain and simple. And I am so sorry that the FBI work force had to hear them and I am so sorry that the American people were told them."
Tell me three times, baby
In his initial testimony Comey confirmed Trump's claim in his termination letter that the director assured him three times that there was no investigation into The Donald's personal involvement in collusion with the Russians. Multiple Republican senators hammered this point home over the hearing.
But that's a tricky tack to take, because the circumstances of those assurances aren't particularly beneficial to the president's case. Comey's first meeting with the president came on January 6, when Comey paid a visit to Trump Tower in New York, and it wasn't a comfortable discussion.
He said that the head of all US intelligence agencies, Director of National Intelligence (DNI) James "no collection" Clapper, asked Comey to personally brief Trump on the allegations from a former MI6 operative that Russian intelligence had a video of an unsavory watersports incident in a foreign hotel suite.
Clapper handed the job off to Comey because the DNI was retiring and the FBI chief agreed to do it one-on-one to "minimize potential embarrassment to the President-elect." Trump denied the allegations and asked if he was under personal scrutiny by the FBI, and Comey said that he was not.
Senator Angus King (I-ME) said that Trump claimed Comey asked for a dinner with him to discuss his future job prospects. Comey disputed that claim, saying the president called him, and at a rather inconvenient time.
He claims he got a call from Trump at lunchtime on Friday, January 27 while at his desk, asking him to dinner at 1830 at the White House. That posed something of a problem, as he had a date with his wife scheduled for that night.
"I hung up and had to call my wife and break a date with her – I was supposed to take her out to dinner that night," he said. "In retrospect, I love spending time with my wife, I wish I had been there that night."
"That's one of the all-time great excuses for breaking a date," King commented.
What's a threat?
Comey said that on arrival at the White House, he was surprised to discover that President Trump had planned dinner for two, set at a small oval table in the middle of the Green Room.
The dinner began with Trump asking Comey if he liked being the FBI boss and wanted to stay on. He explained to the FBI director that many other people wanting his job, a statement Comey said he found odd, since the president had already twice assured him that he was secure in his position.
Later in the dinner the president said: "I need loyalty, I expect loyalty," according to testimony. Comey said he was careful not to react or respond, and an awkward silence followed.
The ex-FBI head said that he thought Trump was implying that if he didn't play ball then he could be out of a job. He claims to have spent time explaining to the president why an independent judiciary was important.
By Comey's account, Trump then said that he was considering ordering Comey to investigate the Russian video claims to disprove them, but the FBI director advised him against such a course, since it might look like there was an investigation into Trump himself, which there wasn't.
The third denial came on the morning of March 30, when Trump called Comey at FBI headquarters. The president was pissed off that the Russian investigations were casting "a cloud" over his administration.
Trump said he was always aware that he was under surveillance in Russia and said there was no truth to the "hooker" allegations. Comey reassured Trump that he was not under personal investigation and the president asked him to make that public, something Comey said he was unwilling to do, since the FBI would then have to make a statement if it did indeed start investigating Trump.