VMware's third growth business sprouts in Q1, plus a spare month
End-user computing biz turns a corner but markets worry about billings
VMware's posted a strong first quarter for 2018, hauling US$1.74bn through the door, nine per cent more than Q1 2016, and posting GAAP net income of $232 million, up from Q1 2016's $161m.
Sharp-eyed readers will by now have noticed that our opening paragraph compares 2018 to 2016. Worry not: our financial literacy hasn't hit rock bottom. Instead, know that VMware has adopted Dell's financial calendar and therefore counted January 2017 as a discrete "stub". The Q1 2018 numbers therefore refer to the period from February to April, while the 2016 numbers cover January to March of that year. The company had revenue of $496m in January, a reflection of seasonal slowness.
The company also reported that R&D costs are up 18.2 per cent - we think we can explain that below - and revealed that billings were $1.67bn, beating expectations. The company's share price was dented by half a dozen per cent, as investors worried that the company's forward bookings were floppy. Its earnings call mostly turned that around, revealing increased guidance for both Q2 and FY 18. It now expects $1.84-$1.89bn to land next quarter, and $7.61bn for the full year.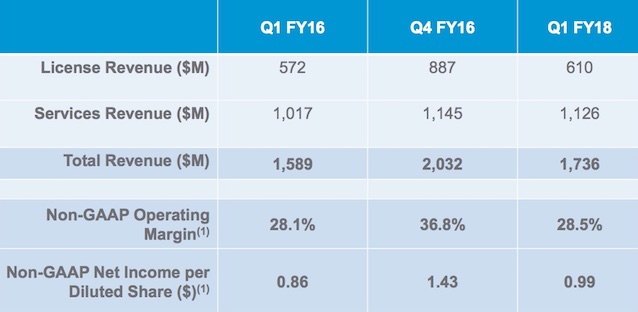 VMware's best bits for Q1 2018
CEO Pat Gelsinger led the company's earnings call with news of its end-user computing business unit, which spans the Horizon VDI and application virtualization products, the Workspace One offering and AirWatch. That unit was put front and centre because it's previously underperformed, but in this quarter it grew by more than 20 per cent year on year and was the decisive factor in half a dozen mega-deals. Gelsinger thinks it is now showing signs of sustainable growth and will take its place alongside NSX and VSAN by delivering above-trend growth for the company.
NSX, he said, continues to shine even if it is still an enterprise play because smaller businesses find it a bit confronting. Gelsinger said VMware is working to simplify the product and reduce its price, in part because the company's channel wants to get busy selling it. Sales were up 50 per cent year on year and the code now has 2,600 customers.
VSAN has cracked the 8,000-customer barrier, up 150 per cent year on year, and VMware reckons it's the leading hyperconverged stack ahead of Nutanix et al.
"Compute" - VMware's word for core server virtualization – was up "mid-single-digits", a nice result given previous guidance it would soon decline. The vCloud Air Network of managed services providers running vSphere contributed plenty of that growth. Cloud Management bookings rose "mid-single-digits" but license bookings were "down in the low teens" year on year.
The company can now point to over nine per cent of its revenue coming from cloud or SaaS sources.
Gelsinger said VMware's partnership with Amazon Web Services remains on track to flick the switch for "mid-year" launch. The service's beta is oversubscribed, testers are happy and have responded well to early pricing suggestions. Gelsinger said VMware will "certainly" have more to say about the service and prices "by VMworld" in late August 2017.
He also said it wont be long before VMware has "some cross-cloud services" to show off. Cross-cloud is VMware's manage-any-workload-on-any-cloud play, whether or not it's built on vSphere. Announced at VMworld 2016, the cloud-hosted service is yet to launch.
When it does, it will give the company the chance to create another new growth business to sit alongside end-user computing, NSX and VSAN. VMware-on-AWS will give the company a chance to take its base along on a ride to the cloud. That the AWS service will also require NSX and VSAN means keeping the base happy will also nourish VMware's growth businesses, a nifty trick. The company also has a security product up its sleeve and will soon launch a multi-nation roadshow during which it will start to talk about evolving security.
Which is not to say it's out of the woods, because VMware remains wedded to virtual machines and they are increasingly spoken of as yesterday's abstraction.
But the company can point to multiple growth businesses and has plans to create more - see increased R&D spend above. That's a scenario plenty of other enterprise vendors surely envy. ®