Lenovo UK boss pulls the chain, flushes himself out of there
Wang gets the call to arms, stands to attention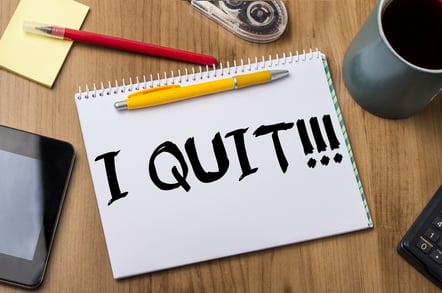 Exclusive Lenovo UK boss John Harber has quit just 15 months after taking the hot seat, El Reg can confirm.
Harber landed the job in February last year, moving across from being veep of global sales at wearables and peripherals vendor Jawbone.
A PR rep at Lenovo told us that Harber, an exec director and GM for the UK and Ireland operations, has "decided to leave Lenovo to pursue other opportunities".
Marketing departments at tech vendors often use that phrase euphemistically when someone has been given the boot but Harber looks to have hit the eject button himself as he is leaving mid-June rather than with immediate effect.
The Lenovo spokesman said Harber had presided over a "profitable business in such a competitive market".
Words chosen well, because in its core market, PCs, Lenovo has slipped and been unable to knock the market crown from HP Inc.
In Q1 2017, Lenovo sold more than 453,000 boxes versus over 558,000 in the same period a year ago – a decline of 18.7 per cent. Ouch.
At the same time, HP increased trade, selling 660,000 units compared to 619,000. It was almost a clean sweep across the board; fewer tablets, desktops and notebooks were sold. Only two-in-ones came good and reported growth, numbers from Canalys indicated.
Lenovo COO for EMEA Marco Grieco Wang-Andresen, who only joined the organisation in March, will manage the UK business until a replacement is hired. In a past life, Andresen previously ran Acer's UK ops. ®
Sponsored: Becoming a Pragmatic Security Leader