Ding-ding-ding. Round 2 of Toshiba Memory biz bid fight. Where the heck is WDC?
4 fighters in the ring... but Western Dig could still jump in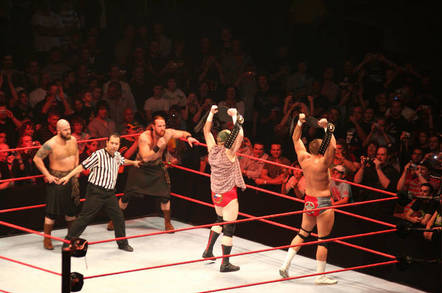 +Comment There are four bidders for Toshiba's Memory Business and WDC isn't one of them.
However, Western Digital Corporation is still in the running, according to the Nikkei. The background story can be found here, with its hot links.
The four bidders at the end of round two of Tosh's auction are said to be:
Bain Capital + Toshiba Memory Business management + SK Hynix with an up to 1 trillion yen (US$8 billion) bid,
Broadcom with an up to 2 trillion yen (US$16 billion)bid,
Hon Hai (Foxconn) + Kohlberg Kravis Roberts (KKR) with an up to 3 trillion yen (US$24 billion) offer,
Innovation Network Corp. of Japan (INCJ).
Bain
The Bain bid is in the form of an MBO or Management Buy-Out in which Bain puts in cash to buy 51 per cent or more of Toshiba's Memory Business, with that unit's management or Toshiba putting in 49 per cent or less. Bain will set up a special purpose company to do this and Korea's SK Hynix would have a stake in this, but not directly in Toshiba's Memory Business, thus side-stepping regulatory approval conditions.
The Bain-led Memory Business would go for a public listing two years after Bain took it over, thus keeping its operations, IP and management in Japan.
Bain is set to talk with WDC, which partners Toshiba in the core Yokkaichi, Japan, NAND memory fab part of the Memory Business. WD has taken Toshiba to an ICC* arbitration court, claiming it has the right to veto any sale of Toshiba's 50.1 per cent stake in their flash foundry joint venture. The proceedings could delay the affair beyond a March 2018 deadline that Toshiba is under. Toshiba has not yet publicly said how it will respond to the arbitration court filing.
Any winning bidder will have to work with WDC in the joint-venture, assuming that WDC's arbitration court activities don't derail the whole process.
Were Bain and WDC to come to an agreement then that could be a positive outcome, with a negative effect on the other bidders, who are offering more money to buy Toshiba's Memory Business outright.
There is also now a possibility Toshiba could offer WDC a non-voting stake in the Memory Business. Alternatively WDC itself could talk to the INCJ and the Development Bank of Japan (DBJ) to try to join with them in a tri-partite bid, thus bulking up its own, prior reported, 1 trillion yen offer.
Other bids
WDC does not want Broadcom owning Toshiba's Memory Business as it has divergent views about how the NAND foundry operations should be run and developed.
Having KKR join with Hon Hai provides more cash resources but the Japanese government is said to be antagonistic to a Hon Hai bid because of that company's connections with China and the potential loss of Japanese jobs and intellectual property to a surging China, which is set on building its own NAND fabrication foundries.
Toshiba would no doubt welcome the receipt of a 3 trillion yen bid though, which would help resolve its group survival-threatening financial losses in a major way.
The INCJ could be joined by the DCJ at a later date, and so obtain more financial power for its bid, which would receive strong Japanese government support.
Multiple motivations
We understand that the private equity houses simply want a good financial exit down the road and will basically join with anyone to achieve it. The two state-backed Japanese funds, the INCJ and DCJ, will want to support the Japanese economy and state interests.
Toshiba wants to ensure overall group survival and see a route back to financial health.
WDC needs a JV partner willing to fund the NAND fab's development needs and not be an aggressive competitor in selling products using the JV's chips.
Hon Hain wants … who knows? Obviously to grow and make more money. Ditto Broadcom and SK Hynix. We suspect that, out of these three, SK Hynix would be most acceptable to WDC. Hon Hai might seem too buccaneering in its approach, plus there's the threat of leakage if IP to Chinese interests.
Grand Alliance and US government
There are thoughts that a grand alliance could be formed between US private equity, the Japanese state-backed investment fund (INCJ), SK Hynix and WDC. One can only imagine the complicated talks involving the varying motivations, differing desired outcomes and cash available from the parties involved.
Even the US government could have a walk-on role in this drama.
In an Asahi Shimbun report Wilbur Ross, the US Commerce Secretary, said: "I was intrigued to see the [Japanese] government floating the idea of a loan guarantee on the Toshiba joint venture with Western Digital. That's a very important business, the Western Digital joint venture. And so I was glad to see the government interested to be supportive of a good transaction there."
And: "The joint venture with Western Digital is a real leader in its segment, and is a very, very important activity, again, both from the kind of semiconductor industry point of view, and from the national defence point of view. So, it's a very, very important thing."
There might even be a third round of bidding once any new bidding alliances form. This sorry saga is set to continue for many weeks yet. ®
* International Chamber of Commerce' and its International Court of Arbitration.