Man sues date for cinema texting fiasco, demands $17.31
'Defendant's behaviour is a threat to civilised society', claims Texan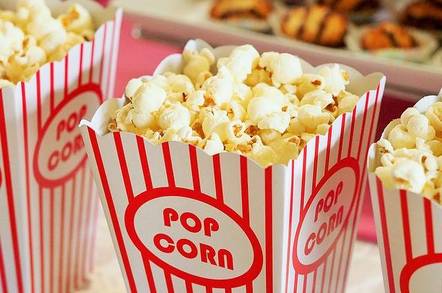 A Texan is suing his date for the cost of a cinema ticket after she upset him by sending a bunch of texts to a pal while watching Guardians of the Galaxy Volume 2.
Brandon Vezmar has filed a lawsuit in a small claims court in the state capital of Austin to get back the $17.31 he splashed during their first and seemingly final get-together on 6 May.
The texting started 15 minutes after the film began. "It was kind of the first date from hell," claimed Vezmar. "This is like one of my biggest pet peeves," he told local paper Austin American-Statesman.
He reckoned the unnamed woman refused to stop sending phone messages to a friend who had been arguing with her own boyfriend, claiming in the petition she "activated her phone at least 10-20 times in 15 minutes to read and send text messages". She said it was more like two or three texts.
Vezmar suggested she take the phone outside so she did and decided to drive home, leaving him without a lift home. Days later he texted her to request the repayment but she refused saying it was a date.
2/2 What contact after movie looked like: 1 text, 1 call, ignored > Text two days later getting serious > Lawsuit. pic.twitter.com/q4EOId868O

— Brandon Vezmar (@BrandonVezmar) May 17, 2017
The petition stated the texting was a "direct violation" of the cinema's policy and the woman's actions "adversely" impacted his viewing pleasure.
"While damages sought are modest, the principle is important as defendant's behaviour is a threat to civilised society," the petition added.
The woman was contacted by the newspaper and asked to remain anonymous. "I had my phone low and I wasn't bothering anybody… It wasn't like constant texting.
"I'm not a bad woman," she told the paper. "I just went out on a date".
Tim League, founder and CEO of Alamo Drafthouse, renowned for its strict "no talking, no texting" policy, has offered Vezmar a $17.31 gift certificate for his next cinema outing if he would drop the case. ®