Windows 10: Triumphs and tragedies from Microsoft Build
Redmond's OS needs to be cool for consumers, but its best chances are with business
OneDrive fixed at last
Microsoft is in a stronger position when it comes to business users, especially when they are also customers for Office 365. The success of this cloud-hosted Office platform is currently the company's biggest strategic asset.
The best news here is OneDrive Files On-Demand, announced at Build. This means that Windows will now show all the files that exist in Microsoft's cloud document store, but only download those that are required offline. This smarter approach will also improve performance. "Today, when someone syncs a SharePoint Online team site, files are re-downloaded on all synced devices when anyone makes a change. Files On-Demand will reduce network bandwidth by eliminating the need to continuously sync shared files on every synced device," says Microsoft's announcement.
Since Build, Microsoft has also announced that you will able to share cloud-stored files directly from File Explorer.
It seems that Microsoft is at last fixing the integration between Windows and OneDrive/SharePoint online, which has historically been a pain point and driven users towards competitors like Dropbox or Box.
Fluent Design System – a better-looking Windows?
Microsoft also announced the Fluent Design System, an evolution of the original Metro design concept introduced for Windows Phone and Windows 8. In practical terms, this also means new and refreshed components for UWP. At Build, Microsoft's Joe Belfiore emphasised the strong support for pen users. "We want to make it so that users can navigate all of Windows just using a pen," he said.
UWP applications often do not look great, and visually richer components are welcome. This touches on a deep issue with Windows, though, which is inconsistency of design. The problem is worse with Windows 8 and Windows 10, which have some elements using brand new design and interaction models, and some which survive from way back when. A new design system will not fix this, and could make it worse if the Windows team are kept busy redoing the user interface for the next new thing, rather than focusing on fixing the many inconsistencies. It needs to do both.
The mysterious Microsoft Graph
Finally, what about the Microsoft Graph, widely referenced at Build, and described by Myerson as "an intelligent fabric that helps connect dots between people, conversations, projects and content within the Microsoft Cloud". But what is it really?
This is a big topic, and sure to make privacy-conscious individuals nervous as it depends on personal data. At its heart, though, the Microsoft Graph remains what it has been for a while: a family of APIs though which developers can query data stored on Microsoft's cloud, subject to whatever permissions are granted to the account with which they authenticate.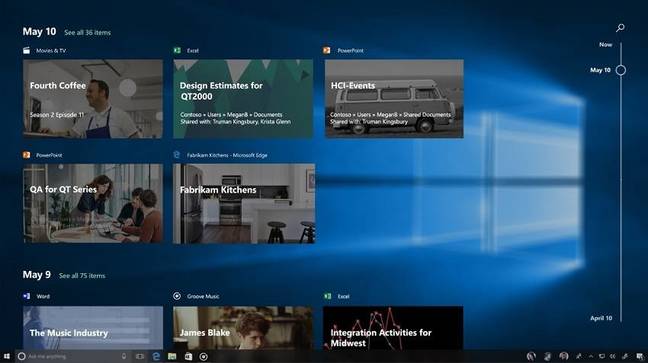 Activity Cards in the forthcoming Windows Timeline
Project Rome (or Roam, haha) extends the Microsoft Graph with new APIs as well as providing new services. The goal is ambitious: "A personal operating system that is not tied to a device or a platform." The RemoteSystems API could enable an app running on a mobile device to launch itself on a nearby PC or Xbox, for example, to take advantage of a bigger screen. UserActivity APIs allow apps to publish activities (such as creating or editing a document) so that it can be surfaced in Windows as a notification, or a card in a Timeline (a new feature in the Fall Creators Update).
Microsoft itself will make good use of these features in Office 365, integrating Windows with Office apps running on iOS and Android, for example. Developers who target Office 365 users – a smart move given the growth of the platform – might well also take advantage.
These new features are unlikely to do much for consumers, though. It depends on users signing into a Microsoft account – either consumer or Azure Active Directory (Office 365) – within apps that support such features. The primary sign-on on Android is to a Google account, and for iOS, an Apple ID. Facebook is next, ahead of Microsoft in consumer mindshare.
Windows is in better shape with businesses than with consumers and that looks set to continue. ®
Sponsored: Minds Mastering Machines - Call for papers now open