Cisco's servers are stuck in limbo, look likely to stay there
Sales suffering – should it quit the market?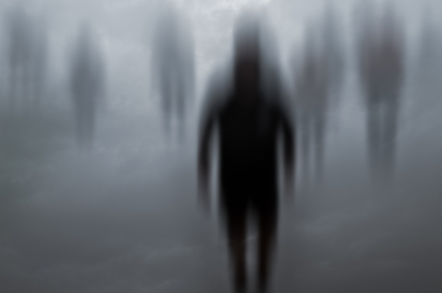 Comment Cisco has missed out on a blade to rack server shift, sales growth has turned negative, it doesn't sell to cloud providers and it has a small market share. Should it invest to grow or get out of servers altogether?
Cisco's third fiscal 2017 quarter results were disappointing, with a 1 per cent decline in revenue year-on-year to $11.9bn. The data centre segment, meaning UCS servers mostly, made $767m in revenue and was down 5 per cent. It constitutes just 6 per cent of Cisco's overall revenues.
In the previous quarter data centre revenues were $790m, down 4 per cent year-on-year, and in the quarter before that they were $834 million, down 3 per cent year-on-year. There is a pattern of decline here.
Stifel analyst and MD Aaron Rakers has charted this, showing Cisco data centre revenues and the year-on-year percentage change: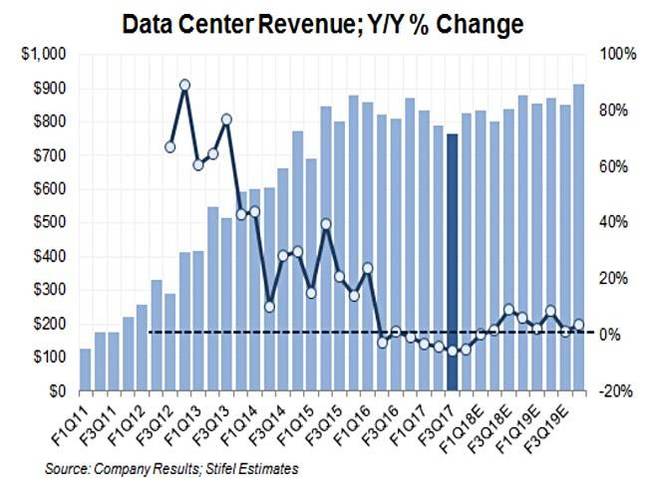 The chart shows actual numbers plus estimates looking at nine quarters.
UCS servers blazed a bright trail in the sky when they first arrived. What is going on?
Overall server sales are down, according to both Gartner and IDC. Dell and HPE lead the market, followed by IBM, Lenovo and Huawei.
IDC gave Cisco a 6.3 per cent market share in 2016's fourth quarter, with HPE having a 23.6 per cent share, Dell 17.6 per cent, IBM 12.3 per cent and Lenovo 6.5 per cent. Original design manufacturer (ODM) suppliers accounted for 7.9 per cent. Why is Cisco lagging?
Rakers charted quarterly server sales by architecture over the past few years: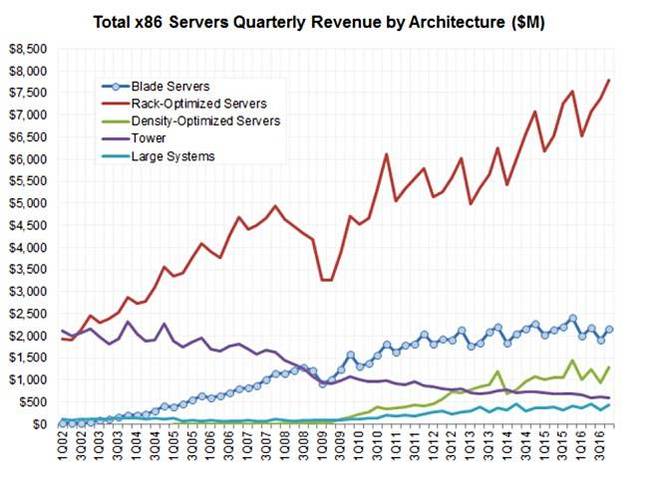 Rack-optimised server sales are the big winners, with blade server sales second, a long way behind, and growth stopping. Density-optimised server sales are flattish, towers are in decline and large systems are the smallest category, although growing slightly.
Rakers next plotted Cisco's UCS server sales in the blade and rack segments, showing both revenues and revenue share percentages: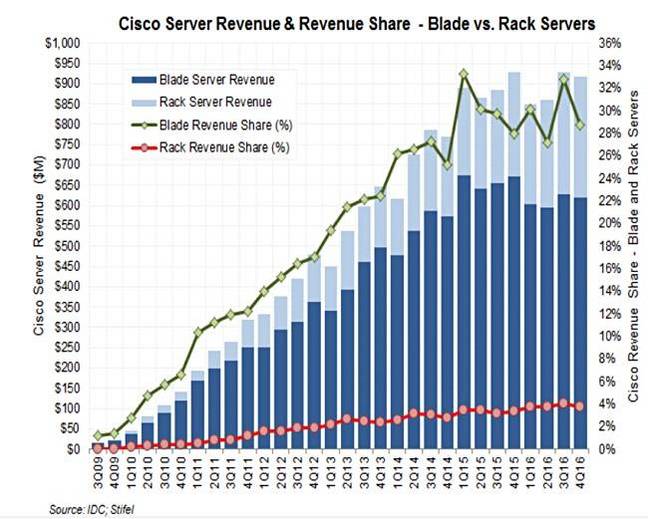 Most of Cisco's UCS revenues come from blade server sales, the declining second-placed architecture, and not rack servers, the main and growing segment. The conclusion is inescapable; Cisco has misread the server market badly, with revenue growth slowing drastically and then stopping from its first fiscal 2015 quarter, two and a half years ago.
Rakers said: "Cisco continues to face a misaligned portfolio for the mix from blade to rack servers – i.e. Cisco has ~30 per cent revenue share in blades; sub-4 per cent share in rack servers."
Cisco sells its servers to enterprises and not the hyperscalers or cloud service providers, ODMs such as Supermicro and Chinese server suppliers such as Inspur.
Cisco has been pushing its HyperFlex hyperconverged infrastructure appliance (HCIA), using OEM'd Springpath software. In March Cisco said it had gained 1,100 HyperFlex customers after nine months of sales. Nutanix has around 5,400 and we expect Dell EMC to be in that kind of area soon.
In its third-quarter results announcement Cisco did not update the 1,100 customer number. A Stifel survey of Cisco's VARs/resellers found 16 per cent thought HyperFlex was best positioned in the HCIA market while 40 per cent thought Nutanix was the leader. Some 66 per cent had sold HyperFlex systems into existing Cisco accounts, not new customers.
Rakers said that some 20 per cent of server revenues come from sales into the public cloud, and Cisco does not sell there, with ODMs and white box servers having around a 40 per cent share.
Sitrep
To sum up, Cisco's servers account for 6 percent of its overall revenues, and these revenues have been declining for four quarters in a row. It has a 6.3 per cent share of the overall market, but a less than 5 per cent share in the biggest and growing rack server section. It's progress in the HCIA market was off to a good start but it lags a long way behind market leaders Nutanix and Dell. HPE, by buying SimpliVity, is becoming a stronger competitor.
Finally it is not a supplier to the public cloud server marker.
It seems to us that, to make progress with servers, Cisco needs to get into rack servers in a big way. But there is a more fundamental question; what is its goal here? Does it want to be a leading server supplier, up with Dell and HPE? Or is it content to have a sub-10 per cent share of the market, selling into its installed base and under continual attack from Dell, HPE and the various Chinese and ODM suppliers?
If it wants to get up with the leaders then it has to spend a lot of money on engineering development and so forth. That will be a hard call when overall revenues are declining, servers are just 6 per cent of its business and it's laying people off.
Perhaps Cisco should step back, take a deep breath, and decide to exit the server market, selling its UCS business to Lenovo, say. Perhaps on the other hand it could try something radical, like buying Supermicro.
That doesn't feel right with our view of Cisco moving into servers as an adjacent market to its core networking market. It then moved into storage as an adjacent market to servers, and failed. We think Cisco sees its server market prospects as being limited, and can't see it making the investments needed to become a top four or five server supplier.
Looking ahead we reckon there'll likely be product line tweaking, statements of renewed commitment and determination, but little actual change in its situation. Servers are too large a part of Cisco's revenues to throw away, too small a part to be worth investing heavily in, and not in a dire enough situation to need a radical fix. They're stuck in limbo and look likely to stay there. ®
Sponsored: Detecting cyber attacks as a small to medium business