Taking a bite out of our profit, Apple? Let's get legal, says Qualcomm
Files complaint over claims contract makers withholding license payments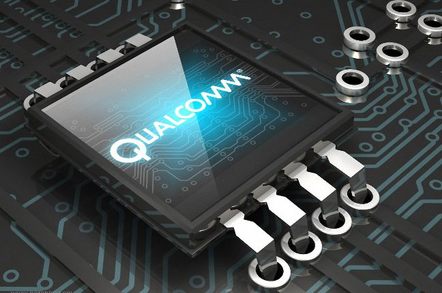 Qualcomm is suing Chinese iPhone and iPad contract makers it says have stopped paying it royalties at the behest of Apple.
A complaint [PDF], filed today in the Southern District of California, has demanded that Foxconn and four other Apple suppliers make license payments in line with their contracts, as well as coughing up damages and "declaratory relief".
The chip maker stated in the complaint that since the start of 2017 "Apple has interfered with Defendants' long-standing payment obligations to Qualcomm.
"Specifically, Apple has withheld substantial payments from Defendants that it owes for Qualcomm royalties and has directed Defendants not to make corresponding royalty payments to Qualcomm."
The five companies named in the filing are Compal Electronics, FIH Mobile Ltd, Hon Hai Precision Industry Co Ltd, Pegatron Corporation and Wistron Corporation. FIH was previously known as Foxconn International Holdings Ltd and is now a subsidiary of Hon Hai Precision Industry.
The filing claimed the companies have admitted that Apple instructed them to withhold the payments and agreed to indemnify them against any losses or damages incurred by their actions.
Don Rosenberg, executive vice president and general counsel of Qualcomm, said in a statement: "We cannot allow these manufacturers and Apple to use our valuable intellectual property without paying the fair and reasonable royalties to which they have agreed. As Apple continues to collect billions of dollars from consumer sales of its Qualcomm-enabled products, it is using its market power as the wealthiest company in the world to try to coerce unfair and unreasonable license terms from Qualcomm in its global attack on the company."
The OEMs are continuing to pay license fees for non-Apple products that they make, but not for Apple products, even though the same agreements apply to both sets of devices.
Qualcomm said it has license agreements stretching back 17 years. The company had already warned shareholders that earnings for the next quarter will be down by $500m thanks to Apple withholding royalties.
For its part Apple claimed Qualcomm is trying to charge it for patents it never used – it wants a $1bn rebate for alleged overpayments. Apple filed its suit in California in January.
It said at the time: "For many years Qualcomm has unfairly insisted on charging royalties for technologies they have nothing to do with. Qualcomm built its business on older, legacy standards but reinforces its dominance through exclusionary tactics and excessive royalties. Despite being just one of over a dozen companies that contributed to basic cellular standards, Qualcomm insists on charging Apple at least five times more in payments than all the other cellular patent licensors we have agreements with combined." ®