West Yorkshire police are seeking a giant penis who may have witnessed a serious assault in Leeds city centre in April.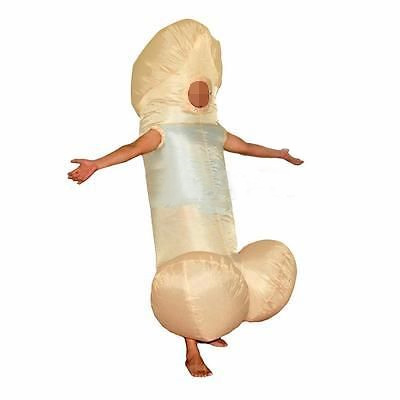 An image helpfully supplied by West Yorkshire police - almost certainly of a person modelling the costume rather than the alleged witness
In the early hours of Sunday April 2, a 26-year old man was attacked by another male who was part of a group of about 10 men. One of the group was wearing an inflatable penis costume. The attacker was described as white, six foot tall with a shaven head and wearing a white or beige T-shirt.
Detective Constable Gaynor Burt, of Leeds District CID, said: "We have been making extensive enquiries to identify those involved and would like to hear from anyone who witnessed the incident or who has any information that could assist in tracing the group involved, who were possibly a stag party or similar."
The, er, costume worn by one member was described by the detective as "very distinctive" which may prick the memory of any people in the locale: "We think anyone who encountered them during the evening would recall it," the detective remarked. "While the nature of costume worn by one of the group might be amusing to some, we are hoping that mentioning it will jog someone's memory and assist in tracing those responsible for what was a serious assault that has left the victim with long-term consequences.
The victim was left with a shattered shin bone, cracked knee and torn ligaments. He has already had one operation and will need further surgery. The attack happened at the junction of Albion Street and Boar Street.
Anyone with information should call 101 quoting crime number 13170151315 or call Crimestoppers anonymously on 0800 555 111. ®
Sponsored: How to simplify data protection on Amazon Web Services