Blighty bloke: PC World lost my Mac Mini – and trolled my blog!
Retailer accused of acting like a real bunch of Dixons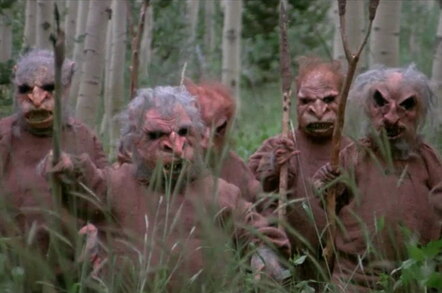 A British man says PC World botched his order, then staff trolled his blog after he wrote a post complaining about it.
Open-source techie Darren Moore, of London, UK, says he ordered three items through the electronics retailer back in March. After learning his business account was set up to ship to the wrong address, Moore says he contacted both PC World and delivery service Dynamic Parcel Distribution to get the matter sorted out.
Shortly afterwards, Moore says, he was able to get two of the items delivered to the correct address, but a third item – a Mac Mini – never arrived. Frustrated, Moore wrote a blog post a few weeks later expressing his frustration.
That, he says, was when things got weird.
The post complaining of the botched order began to receive a bizarre series of comments. The replies – 10 in all – were made under various names and contained text pulled from Australian author and humorist David Thorne's page on frogs.
Moore looked though his web server logs for the source of the comments and found they all appeared to be coming from an IP address associated with a PC World location in Stevenage, England. Moore reckons someone at the Stevenage location had trolled his blog with the fake comments in response to the complaint.
He says he contacted PC World support, and got an apology from a help desk operator for the half-arsed troll job someone pulled on his blog, but he has yet to get his third item sorted out.
"I said that I was willing to be patient, but three weeks later I still don't have my Mac Mini and there hasn't been any compensation or decent apology from the PC World branch in Stevenage that defaced this blog," he writes.
The Register contacted PC World, and parent Dixons, for comment on the matter, but has yet to hear back at the time of writing. ®
Sponsored: Detecting cyber attacks as a small to medium business