Microsoft touts next Windows 10 Creators Update: It's set for a Fall
Cross-device clipboard, OneDrive placeholder files, mixed reality headsets...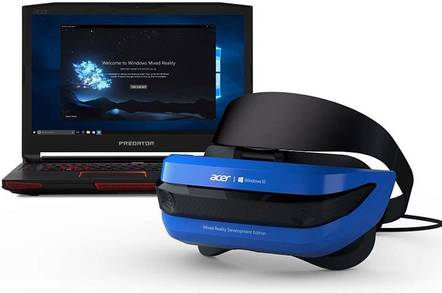 Build Microsoft has announced the Windows 10 Fall Creators Update, a second wave of updates to its "Windows as a service" operating system. The first Creators Update was released in April 2017.
Why is this new release also called "Creators Update"? The reason, Microsoft told the press, is that this release is a continuation of the same concepts, rather than something radically different.
There are several themes, of which the biggest is an improved cross-device experience based on what the company calls the Microsoft Graph. This term was first used in the context of Office 365, where it describes a set of APIs that let developers query data on business activities. The Graph itself is a database of people, devices, activities and the connections between them.
Microsoft is now extending this concept to consumers as well as businesses. Terry Myerson, Microsoft's Windows and devices boss, says:
"The Microsoft Graph is an intelligent fabric that helps connect dots between people, conversations, projects, and content within the Microsoft cloud – ensuring experiences flow seamlessly between Windows, iOS, and Android devices."
Specific features that build on this include:
Pick Up Where You Left Off: A new Cortana feature that lets you continue working on a document, website or app, even when you switch devices, such as closing you PC and going out with your smartphone or tablet.
Cross-device clipboard: Copy a file, link, text or image on a PC or device, and paste it on another device.
Timeline: a history of your tasks, such as applications you were working in, with the ability to return to something you were working on earlier.
In order to work cross-device, these features require sign-in, either to a Microsoft account (for consumers) or Azure Active Directory (for Office 365 users).
It is also obvious that the data to make this work is stored in Microsoft's cloud. At Build, Microsoft is encouraging developers to write applications that take advantage of this, using the SDK called Project Rome. Project Rome is not new, but is being integrated more deeply into the operating system.
That said, developer VP Kevin Gallo says that "Apps will write the data. There's nothing we're doing that going to be secretly put into [the Microsoft Graph]. Even access to some of the features will be under the user's control. They can always opt out."
The My People feature originally planned for the first Creators Update is returning. This will let you pin a contact to the taskbar to enable quick interaction.
There is good news for users of OneDrive, Microsoft's cloud storage and synchronization product. The Fall Creators Update restores a feature last seen in Windows 8, the ability to see all the files you have in OneDrive without having to download them. Currently, OneDrive on a PC only shows the files you have chosen to synchronize.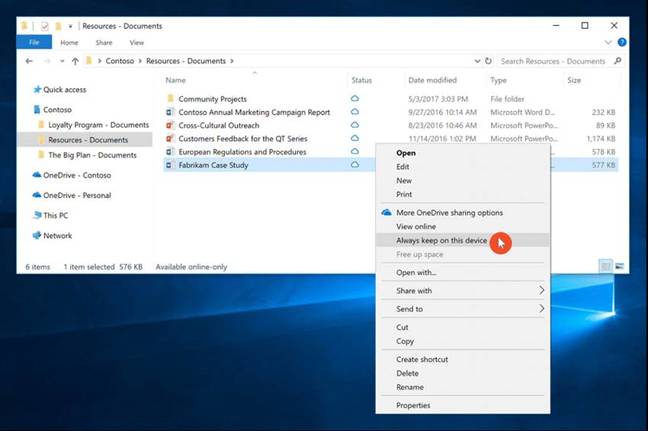 The new OneDrive Files on Demand feature
This new feature is called OneDrive Files On-Demand. Status icons in File Explorer show whether files are online or available locally, and you can opt to keep specific files always downloaded. If an application requests a file, it will download automatically.
In addition, OneDrive on Android and iOS will get support for offline OneDrive folders, with availability immediately for Android and later for iOS.
Another key feature is Mixed Reality – by which Microsoft means a whole spectrum from Augmented Reality, where computer images are blended with the real world, to fully immersive virtual reality.
At Build, Acer and HP have announced mixed reality headsets which developers can pre-order - $299 for the Acer or $329 for HP.
Microsoft has announced new motion controllers which are notable because they do not require external sensors. "Our partners plan to market and sell these controllers on retail shelves this holiday," says Myerson.
There will be bundles of headsets combined with the new controllers, and Acer plans to launch one at $399 later this year.
Microsoft is delivering a new application, called Story Remix, to show off Fall Creators Update features. This is a UWP (Universal Windows Platform) app which, says Myerson:
"Uses the Microsoft Graph to transform your photos and videos. It automatically brings your memories, or even your friends' photos and videos together to create stories with a soundtrack, theme, and cinematic transitions. You can also create mixed reality by adding 3D objects to your photos and videos to tell stories in a whole new way, or turn your photos and videos into your canvas, drawing on them with Windows Ink."
Microsoft also announced a new design pattern called the Fluent Design System, formerly known as Project Neon. This is not a new look for Windows though. "I don't want anyone to think that the next version of Windows has a dramatic look and feel difference," said Gallo. The primary intent is to make it easier for developers to support new kinds of devices.
When will we get the Fall Creators Update? "We don't know. We are guestimating sometime in the fall," Microsoft told the press. That said, this seems intended for the Winter season so it is unlikely to be later than October 2017. ®