That YouTube ad boycott had square-root of sod-all effect on Google's insane cash machine
License to print money renewed in full, thanks to mobile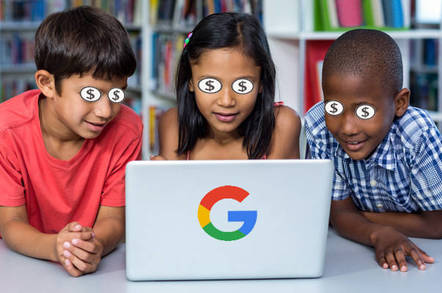 Google's parent company Alphabet has enjoyed a bumper start to the year, raking in more and more ad cash, sinking dosh into hobby projects, and generally having a great time.
You can hate on the cloud monster all you like, but life is good in the Googleplex at the moment.
For the three months to March 31, its first quarter of the 2017 fiscal year, the Chocolate Factory revealed on Thursday:
Revenues of $24.75bn were up 22 per cent from $20.26bn this time last year, beating expectations. This increase was linked to an increase in mobile search, executives said. Sales were up around the world despite a mildly menacing boycott by large corps after their web adverts appeared next to hate speech videos and similar dreck. The protest appears to have had zip-all effect in the grand scheme of things.
Net income of $5.43bn, up 28 per cent from $4.21bn in Q1 2016.
Earnings per share (non-GAAP) of $7.73, up from $6 a year ago, topped analyst estimates of $7.40.
Google advertising revenues were $21.41bn, or around 87 per cent of Alphabet's total revenues. That dollar-figure is up 16 per cent from the year-ago quarter's $18bn. Interestingly, 81 per cent of Google's ad revenue comes from its own network, up from 71 per cent a year ago. That means it's snatching a greater share of advertising dosh from its partners that use its ad-slinging tech.
Alphabet's employee ranks have swelled to 73,992 people, up from 64,115. Execs said the majority of the new hires were engineers and product managers.
Google's "other revenues," a category that includes the Play Store, hardware, and the Google Cloud service accounted for $3.1bn in revenues. Chief financial officer Ruth Porat noted that the cloud service was a particular bright spot and has become "one of the fastest growing businesses in Alphabet. In terms of product areas, the most sizable head count growth was in Cloud, consistent with the priority we place on this business."
If you've been keeping up with the math so far, you would know that between the Google advertising and "other" brands, most of Alphabet's revenues are accounted for. This brings us to the "Other Bets," a category that includes Waymo, Google Fiber, Nest, and a host of other side projects.
Those efforts all remain very much a cash sink for the Chocolate Factory, drumming up just $244m in revenues while accounting for an $855m operating loss in the past three months alone.
"We're determining the size and pace of investment appropriate to each bet, given their stage of development and achievements against milestones," Porat said of the 'Other Bets' lineup. "We expect to increase near-term investment in certain areas while continuing to calibrate the pace of investment in others as they move along a path to commercialization."
On the subject of the YouTube boycotts and advertising pulled by big brands, Google CEO Sundar Pichai told investors and analysts on a conference call that AI will shut down the controversy. Somehow. Like it actually matters. Pichai said:
We have taken it pretty seriously, and we are taking significant steps. And obviously as part of doing that, we have brought new technical solutions into place. Machine learning is a great example of it. It helps us enforce – as we improve our policies, it helps us enforce it better. And we are in early days, so as machine learning gets better, I think we'll be able to do all of this even better and create that virtuous cycle.

Overall, I'm pretty confident at the rate at which we have made progress. And we're going to continue investing a lot here. It is super important to us that this ecosystem works well. It matters for advertisers. It matters for content creators. And so we take that responsibility very seriously. I would say advertisers have clearly noticed all the improvements we have made. Our conversations with them are very, very positive, and so I'm pretty optimistic about how we'll continue to make progress here.
Alphabet shares were up 4.01 per cent at $909.28 in after-hours trading. ®
Sponsored: Minds Mastering Machines - Call for papers now open