Verizon's bogus bills tanked my credit score, claims sueball slinger
Chap claims accounting cockup left a permanent black mark on his credit history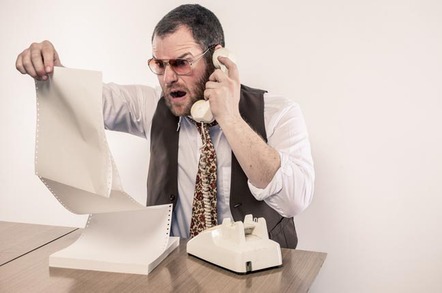 A bloke in the US is suing Verizon alleging that a billing blunder left him with bad credit.
Travis Combs, of Virginia, is suing the wireless giant for damages and distress, alleging violations of the Fair Credit Reporting Act. He claims that by misreporting his closed account as "delinquent," Verizon has unfairly driven down his credit score and, as a result, caused him to be turned down or given worse terms by lenders and banks.
According to the complaint [PDF] filed this month with the Western Virginia US District Court, Combs closed his wireless account with Verizon in January of 2014. Two months later, he received an invoice from the carrier showing he had a negative balance of $75.40 and was told that he would get a check for the extra money.
However, Combs says, Verizon ended up sending him additional bills in the following months, despite acknowledging no activity on his account. This eventually culminated in the account being labeled as "delinquent" and forwarded to Verizon's collection agency. It also led to Verizon reporting the matter to credit agency Trans Union, and as a result Combs' credit score was dinged for having a delinquent account.
As a result, the man claims, he has been pursued by collection agencies and either turned down or offered worse terms from banks and lenders because of the bad mark on his credit report from Verizon, a mark that he claims was illegally made.
Now, despite numerous attempts to settle the matter and clear his credit report, Combs says that Verizon is refusing to remove the delinquent account notice and demanding he pay the $166 charge for two months of service – months during which he claims he did not even have a Verizon account.
As a result, he is now suing for damages and emotional distress as well as a violation of the US Fair Credit Reporting Act.
"Each time plaintiff received investigation results from the consumer reporting agencies on the disputes referenced herein, plaintiff learned that his efforts to correct his credit reputation had failed and each of those failures would in turn cause plaintiff to suffer emotional distress, including frustration, anger, depression and a general feeling of helplessness," the suit reads.
Verizon has yet to file a response to the complaint. ®