Huawei mystery memo (and phone strategy) confirmed
Behind the staffers 'counting money in bed' missive…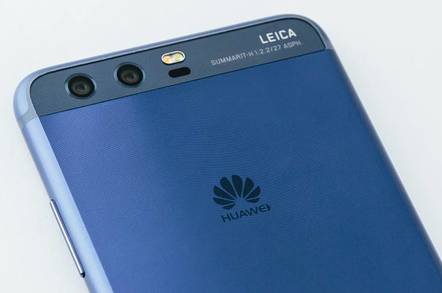 Interview Last weekend Huawei's flagship P10 (and P10 Plus) smartphones went on sale in the UK, with support from all four major operators for the first time. Huawei UK boasts that it was the only Mobile World Congress launch to get across-the-board support – something LG and Sony had failed to do.
Huawei has been more or less the world's No 3 behind Samsung and Apple for several years. But for much of that time it was unknown in Western markets. Only three years ago, marketing experts could be heard agonising that English-speaking punters would never be able to wrap their tongues around the pronunciation. Whatever progress Huawei made wasn't deemed to be an immediate threat to the high-spending industry leaders.
(Except, perhaps, by us).
Because in 2014 Huawei vowed to be parsimonious, only spending on marketing what it could afford, and expressed a preference for cheap marketing like word of mouth.
Huawei's breakthrough last year came as a reverse, and the result of very lavish marketing, which included splashing some ¥4.9bn on brand ambassadors including Lionel Messi and Scarlett Johansson. And Henry Cavill. And Brooklyn Beckham. And even more. That's enough "brand ambassadors" to fill a "brand embassy".
And the consequences of this splurge were noticed by the company founder Ren Zhengfei, or Mr Ren. Officially now the deputy chairman, Mr Ren devolves the executive management to three "rotating CEOs," but when he opines, over 170,000 employees listen.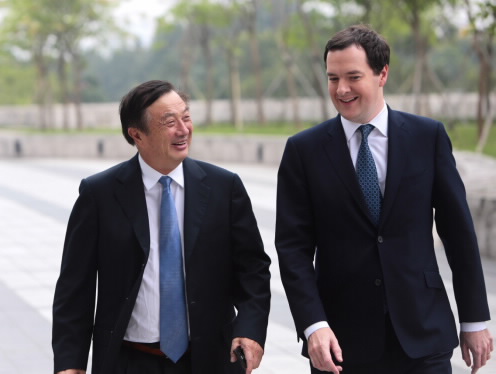 Huawei founder Ren Zhengfei (left).
Not sure who the other chap is
In a memo leaked to Reuters recently, Mr Ren blasted the company's business unit for complacency and warned of smartphone layoffs. The problem wasn't selling tons of phones – the consumer unit revenue increased 44 per cent last year as Huawei sold buckets of Honor phones into a youthful Chinese market, and premium models into mature markets outside Asia. The problem was that the hefty marketing had eaten into Huawei's profit margins. If these weren't improved, heads would roll, Zhengfei warned.
Indeed the consumer push ate into Huawei's profits for the second year running, Huawei disclosed [FT, paywalled] last week.
At the opening of a Huawei-sponsored exhibition at the Saatchi Gallery last week, we put the delicate subject to Walter Ji, head of Huawei's consumer business unit in Europe. What did he mean?
"We have an internal famous proverb at Huawei about a dam," Ji explained.
"Mr Ren has a strong philosophy: to have a lower dam, but dig deeply inside. This means that to maintain the same level of water you have to work. For a higher dam you must have higher expenditure. Or (for) a lower dam but to have to be more efficient, to have a lower operating cost.
"So it was to give us directions. To improve our own operating costs and efficiency not to get a high price in the market.
"In the end it's not marketing that makes your success. It's product and service. Now rather than (spend) too much money for marketing, we invest 10 per cent in R&D. So we bring continuous innovation to market."
That certainly sounds like the cash spigot might have been turned down a few cranks. Sorry, Brooklyn.
Analyst Richard Windsor thinks the phone business may have actually lost money, and predicts a year of consolidation for Huawei as it endeavours to bring expenses under control.
"I remain unconvinced that Huawei does not have the stomach or the resources to wade through the rivers of red ink that it will take to knock Samsung off its perch," he writes.
The unprecedented operator support for the Huawei flagships should help. It's a more conventional and cheaper marketing channel than brand awareness, which is a kind of racket run by the "celebrity industry".
Perhaps Huawei's growth here is as much down to the money-back promise as the celebrities.
For the premium phones, the P series and the Mate, Huawei offers a three-year warranty and gives the buyer three months to return the phone "if you have problems," said Mr Ji.
"If it's broken you can't. But this is significantly appreciated by the consumer who might have worries. You have no worries. This demonstrates our confidence that consumers will like the high quality."
Huawei did correct us on one point: the P10 Plus is not just £50 more expensive than its smaller sibling the P10 (we believed at the time that it was £629 to the P10's £579). The firm explains it's more like £679.99 SIM-free at Carphone. We'll have a P10 Plus to review shortly. ®
Sponsored: Minds Mastering Machines - Call for papers now open