Do not insert coin: Uni of Utah to dish out scholarships to ace video game players
Major sports school levels up with esports program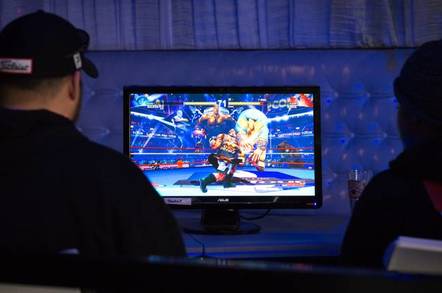 The University of Utah on Wednesday said it will offer scholarships to students who excel at esports – meaning they can play, say, League of Legends for the US college to pay their way through an engineering degree.
The uni's newly formed varsity esports program is the first such program for an institution participating in the Power Five major athletic conferences. The Power Five consists of the wealthiest athletic conferences in college sports – Pac-12, Big Ten, Big 12, Atlantic Coast, and Southeastern.
Other "firsts" have preceded this one. Last year, the University of California, Irvine announced an esports scholarships program, "the first of its kind at a public research university."
In 2014, Robert Morris University Illinois said it was the first university to offer esports scholarships at the varsity level.
Initially, the Utah esports program will focus on Riot Games' League of Legends, but plans to compete against other schools in other video games, to be announced shortly. The program will be sponsored by the school's Entertainment Arts & Engineering video game development program.
Michael Sherman, college esports lead for Riot Games, said in a statement that there are presently some 750 League of Legends student clubs and more than 20 official varsity programs in North America.
A.J. Dimick, director of operations for the University of Utah's new esports program, said in a phone interview with The Register that he hopes the program encourages more big colleges to participate. Dimick said initially the program will offer partial scholarships of $1,000, for about 35 students.
That's significantly less than a top-tier gaming PC would cost.
The end goal, Dimick said, is full scholarships, possibly in conjunction with sponsorships and affiliation deals.
"Gaming is already such a big deal on campus," said Dimick, who explained that the school's video game development program is highly ranked. "These kids don't need help playing games or help competing. The hole we're filling is they want to be able to represent their university with what they're good at and passionate about. It's not about the game, it's about the school."
At some point, it's also about the money. Esports players are not bound by National College Athletic Association rules and can thus be compensated financially for their participation.
Game metrics measurement consultancy SuperData projects esports revenues will reach $1.1bn in 2017 and $1.4bn by 2019. League of Legends, the research group said, earned $1.7bn from January through November, 2016.
Newzoo, another game industry metrics biz, expects that the global audience for esports will reach 180 million by 2019, up from 131 million in 2016. Some 44 per cent of those viewers last year, by Newzoo's count, were in the Asia-Pacific region.
On the basis of annual revenue per fan, esports still lag behind traditional sports. Newzoo in its report put 2016 esports revenue at $3.5 per fan, about five times lower than that of basketball ($15 annually) and US football ($60 annually).
Dimick said Riot Games does not subsidize its esports program. But the University of Utah aims at least to break even on mouse twiddling and button mashing.
"We view it as a spectator sport and we hope to turn it into something that is self-sustaining," said Dimick. ®
Sponsored: Webcast: Build the next generation of your business in the public cloud