Jailed biz coach accused of $17.5m HPE fraud writes to fans saying 'join me'
Prison letters from Peter Sage reach world+dog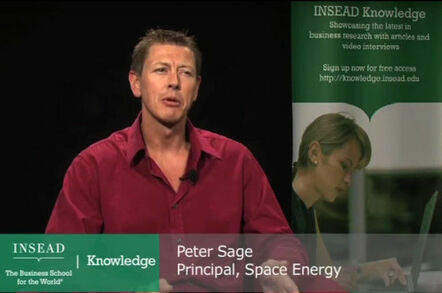 The jailed motivational speaker accused of diddling HPE out of 42,000 servers in a fraud spanning several years has been writing letters from prison to his "dear and amazing" fans inviting them to "join me on the journey".
Peter Sage, who in January was committed to HM Prison Pentonville, in London, England, for contempt of court, has been issuing missives from behind bars to people who had signed up for his various life coaching ventures.
He was jailed while being aggressively pursued by Hewlett Packard Enterprise (HPE). The company accuses him of fraudulently obtaining big discounts on $17.5m worth of servers supposedly destined for Iraq and Afghanistan that he was said to have resold into the UK and elsewhere, having used his allegedly fraudulent Space Energy venture to enter the "special bid process" discount scheme.
Sage denies HPE's allegations, claiming that he was not bound by terms, conditions and restrictions in reseller agreements once he had legal title to the servers. The civil case, which is being heard before the Queen's Bench division of the High Court, is ongoing.
"I'm writing to you from the inside of Pentonville, one of the toughest and most violent prisons in the UK. It's quite literally the perfect setting for what I have planned," opens Sage's first letter from prison, titled The Inside Track, Vol 1.
"I've never felt better and the river is winding perfectly. There's so much I want to share. By now you've probably seen the video which gives an overview of the things that led up to me coming here, so I don't need to give much more context, though needless to say it came so out of left field and against so many odds that it could only have been engineered on a higher level of the game and from a place I trust completely."
Sage published a video immediately before being jailed in which he blamed everyone but himself for his situation. He had defied a High Court order to immediately disclose his beneficial control of various financial assets, including his businesses (which were in his fiancée's name) and a £23,000 engagement ring, which prompted HPE's lawyers, Mishcon de Reya, to apply for him to be imprisoned.
"I mean, what possible way could life manage to smuggle me into jail without ever being accused of a crime and to bring me out afterwards without still having a criminal record? Total genius. I feel like Sylvester Stallone in Escape Plan, though rather than test the prison security, I'm here to be a secret agent of positive change," continued Sage's 14-page letter. The High Court judge who jailed him, Mr Justice Jay, commented in his January judgement: "No doubt Mr Sage held himself out as possessing the credentials and abilities to inspire others to become extremely successful business men and women; and either ex ante or in consequence, a millionaire himself."
Damningly, the judge added: "To be fair to him, I would not describe him as being intellectually sophisticated, but I agree with Mr Peto [HPE's barrister] that he has exhibited no lack of guile and panache in his particular world, including the world of international business."
Sage's full letter was published by his associates on his Facebook page – facebook.com/PeterSageFan007 – and is also archived on El Reg's own servers [PDF, 14 pages/314kB]. He is understood to have written subsequent letters, though so far only one has made it into the public domain.
The High Court could not be immediately contacted to verify the outcome of a case management hearing that took place on 3 April, though it is expected to have set a fresh hearing date for later this year. ®
Sponsored: Becoming a Pragmatic Security Leader