Ever visited a land now under Islamic State rule? And you want to see America? Hand over that Facebook, Twitter, pal
Uncle Sam turns up the heat on visa hopefuls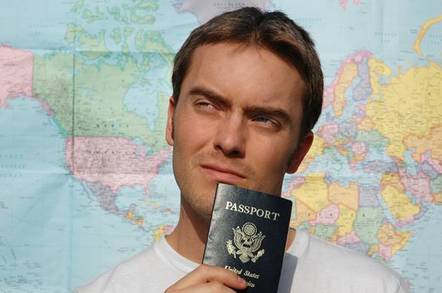 US embassies have been told to examine social media accounts of visa applicants who have ever set foot in Islamic-State-controlled areas.
The edict was sent out earlier this month by Secretary of State Rex Tillerson in diplomatic cables. These memos, leaked to journalists and revealed on Friday, direct officials to identify "populations warranting increased scrutiny" and perform a "mandatory social media check" on anyone who has visited lands that have been under Islamic State rule.
Given that social media is apparently rarely reviewed by consular staff, this move will result in significant upheaval for background checkers.
Tillerson's instructions are tied to President Trump's most recent executive order that clamps down on immigrants from selected Muslim-majority nations. That's the executive order he issued after US judges halted an earlier version.
The courts froze the revised order, too, forcing the Secretary of State to revise edicts sent to embassies earlier this month: in his latest cable, dated March 17, he insisted visa applicants disclose their social network accounts so they can be searched for any troublemaking.
Rights lawyers say this means people will be scrutinized depending on where they are from, who they worked for, and what they worship, rather than whether or not they actually pose a security risk.
"Most [consular] posts already have populations that they look at for fraud and security issues," Jay Gairson, a Seattle-based immigration attorney, told Reuters.
"What this language effectively does is give the consular posts permission to step away from the focused factors they have spent years developing and revising, and instead broaden the search to large groups based on gross factors such as nationality and religion."
Some have questioned this social media crackdown, considering a would-be terrorist is probably going to hand over a URL to a dummy profile rather than one they've used to rave against America. Then there's the fact that poring over social media wittering is immensely time-consuming. You could use computers to do the job, but software tools have proven ineffective during tests.
So it's going to be up to embassy staff to go through certain people's social media accounts: that'll take time and ultimately keep those folks out of America, which is what the Trump administration ultimately wants, we suspect. "There's so much social media out there," said Anne Richard, a former US assistant secretary of state in the Obama administration. "It's not something you can [review] on a timely basis."
Last month, senior officials, energized by President Trump's tough stance on immigration, said they wanted the usernames and passwords to accounts – from Facebook and Twitter to online banking – from certain unlucky visa applicants. ®