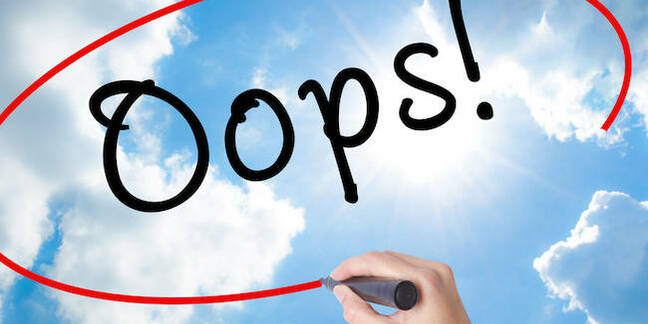 Updated The Google Drive app for Windows has crashed and burned – after the tech genius hub pushed out an unfinished and faulty software update.
Reports of the cockup surfaced after hundreds of users posted their frustrations on social media, Reddit, and Google Product Forums. It basically means netizens can't access their cloud storage from Google's Windows desktop client for Drive – punters can still use the web interface.
The internet goliath is battling to get the outage sorted, we're told. At point one, the ad biz admitted it was aware of "a problem with Google Drive affecting a significant subset of users."
Attempting to use the borked client will throw up an error that reads "Sorry, Backup and Sync needs to quit." Useful. It also apparently sports a warning that reads: "This UI is confidential. Do not leak!" Oops.
"Our team is continuing to investigate this issue," Google's G Suite status page was updated to read just moments ago.
"We will provide an update by 3/16/17, 2:30PM [PT] with more information about this problem. Thank you for your patience.
"Some users of the Google Drive Sync client for Windows will receive the error message 'Sorry, Backup and Sync needs to quit' and will be unable to use the client. Other Sync clients are not affected. Affected users may continue using the Google Drive web interface and mobile applications.
"We have identified the root cause of the issue and are implementing a potential fix now."
The Windows Drive client hasn't had a great run, and is known for being riddled with bugs and not getting much love from Google engineers. Several users have been unable to upload files in the past. The latest botched update obviously doesn't help – and appears to be a pre-release half-finished version that was wrongly sent out and installed by autoupdating clients.
@ArtemR @cryptecks @RDR0b11 Got a screenshot of this. Oops. pic.twitter.com/MLlkqp5pD1

— GreenyRepublic (@Benfclark) March 16, 2017
"Seems like Google pushed a private build of the new Google Backup and Sync (Drive) to the public. Well done Google," complained one Redditor.
"A rather baffling and frustrating error to wake up to, especially given everything was functional last night," noted user Jenna Curtis on the Google Product forums. "It appears Google Drive updated to a new program called 'Backup and Sync' upon restart. Uninstalling and reinstalling the program does nothing." ®
Updated to add
Google has revised its status page to say: "The problem with Google Drive should be resolved. We apologize for the inconvenience and thank you for your patience and continued support.
"The Windows client will automatically update with this fixed version within the next 10 hours. Alternatively, affected users can download the updated version of the client from www.google.com/drive/download. Affected Windows 10 users may be required to sign in to their Google account within the client."
Sponsored: How to simplify data protection on Amazon Web Services