US Marine Corps chiefs declare WAR on stolen sex snap sharing scum
'We have a problem and we intend to fix it'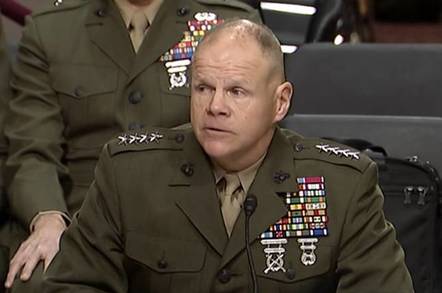 Video In a hearing at the US Senate Armed Services Committee in Washington DC, the commandant of the Marine Corps, General Robert Neller, promised swift action against those swapping pornographic pictures of his troops.
Earlier this month, a former marine blew the whistle on a private Facebook group called Marines United that was exchanging stolen nude selfies and surreptitiously snapped shots of female marines. The group had over 30,000 members, including former and serving servicefolk and some soldiers claiming to be with Britain's Royal Marines.
At a partially open hearing to discuss the issue, Neller said such pictures were "truly disturbing and unacceptable," and "pervert our culture." He promised that serving members of the Corps found to have been active on Marines United, or any of the copycat sites that have sprung up, could face prosecution under the Uniform Code of Military Justice.
"The Marine Corps I've served for over 40 years has a problem and we intend to fix it," he said. "We must attack any behavior that has a corrosive effect on good order and discipline of our Corps."
Female marines had served with distinction, and some had died in 16 years of war in Iraq and Afghanistan, Neller said, naming Major Megan McClung, Captain Jennifer Harris, and Corporals Jennifer Parcell, Holly Ann Charette and Ramona Valdez – all of whom had paid the ultimate price for America's battles in foreign lands.
"To the men in our Corps serving today, and those no longer wearing the uniform, you're still Marines," he said. "I need you to ask yourselves, 'How much more do the females of our Corps have to do to be accepted?'."
Also at the hearings was acting Navy secretary Sean Stackley, who oversees the Marines. He said such behavior was "a cancer" and that investigations had already begun into how to eradicate it.
"Discovery and investigation these past several weeks into the toxic, predatory behavior harbored by the website Marines United has uncovered a grievous breakdown of good order and discipline, a violation of our core values and what amounts to an insider threat," he told senators.
Article 120c of the Uniform Code of Military Justice bans the viewing of another person's "intimate areas" in circumstances where they have a reasonable expectation of privacy, and also bans the broadcast and distribution of such media. Being found guilty will earn a Marine a dishonorable discharge and loss of benefits, as well as up to five years in a military prison. ®
Sponsored: Practical tips for Office 365 tenant-to-tenant migration