Vodafone gets less flexible on flexible working Ts&Cs for own staff
Cracks early April Fool's Day joke...but changes really ARE due 1st of next month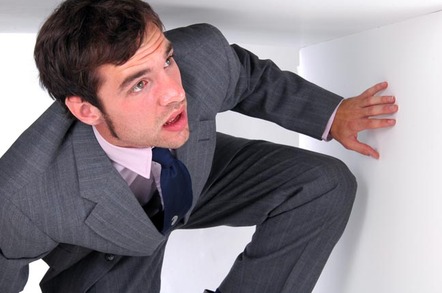 Exclusive An April Fool's Day joke has come early for Vodafone teleworkers, who are facing a clampdown on their own flexible working conditions from the start of next month.
The telco sells the Better Way of Working (BWOW) "solution" to customers - a mix of tabs, remote access and device management systems. This is supposed to make staff more productive, use office space more efficiently, and cut CO2 emissions.
This was "great, forward thinking, green smart. So why, as of 1st April, is it being denied to all staff after being adopted as policy for years?" one insider said to The Register.
In an internal memo to employees on 8 March - seen by us - Meriel Fleming, Vodafone senior comms manager for strategy and planning, confirmed the BWOW guidelines were to be replaced by "Smart Working". The main principles, she said, are:
The number of smart working days should be around four per month. In individual cases, alternate arrangement may be agreed with your line manager.
Smart working days should not be the same day each week.
You'll need to log your smart working days in advance through EVO (internal ERP system) just as you book annual leave.
Fleming said Vodafone should have an "effective and flexible working culture" that was "hugely valued by all", but to achieve this employees will need to follow the guidelines for three "key" reasons.
There is an inconsistent application of better ways of working and in all honestly several guidance documents. This has led to mixed messages and lack of clarity on how to apply the guidelines. Going forward, we need a clearer set of expectations for us to follow.

We need to manage our office utilisation, collaboration time with each other and business continuity as effectively as possible.  The facts suggest our office utilisation varies from day to day which to a certain extent is fine.  However, typically our sites follow a pattern and are busier earlier in the week and utilisation decreases significantly towards the end of the week.

Our Group colleagues rolled out a smart working policy very recently to their employees. It is important that our UK business is consistent wherever possible with Group on ways of working, because in some sites we have a combination of UK and Group employees sharing office space.
For those who don't want to wait until April Fool's Day, the tool is available now and staff were encouraged to use it, Fleming added. The move wasn't well received by some personnel.
"To say that there is a 5h1t5t0rm on the intranet is an understatement," said a Vodafone staffer. "Curiously-slash-ironically, this was launched on International Women's Day, and a fair few ladies are questioning how this is meant to suit those returning to work post-pregnancy."
El Reg understands the previous push to embrace flexible working saw desk space cut back, "dramatically chopped back to accommodate BWOW and reduce the estate."
In turn, "smart desking" was introduced in a bigger way and parking spaces reduced, the source added.
"Now, unless sanctioned in advance by your manager, we're expected to forgo all that came before and schlep to an office, even though many of us work for disparate teams, spread around the country. Nothing green about massive tailbacks into and out of the offices Monday to Friday."
Vodafone also sells Total Workforce Mobility packages and fixed and mobile services with a suite of comms and collaboration tools under the One Net Enterprise banner.
The insider told us the changes to flexible working "[flew] in the face of selling such solutions to customers. Is it a productivity boost, or isn't it? What happened to 'drinking your own champagne'?".
In its own marketing material, Vodafone claimed 86 per cent of employers experienced demand for flexible working, and three-quarters of workers said it boosted job satisfaction, while 54 per cent said it boosted productivity. A half of businesses that implemented such policies had reported a reduction in costs, the company's own survey claimed.
Vodafone isn't alone in revising its own policies on teleworking, but its proposals seem far less draconian than ones being implemented by IBM, where in the US Big Blue staff were given 30 days to agree to work with their teams "shoulder to shoulder" in one of six strategic locations across the country – or quit. ®
Sponsored: What next after Netezza?