SolidFire chief talks up secret upcoming hyperconverged system
Who nodes what'll actually be in it, though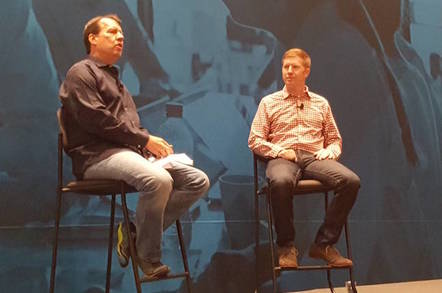 Backgrounder SolidFire boss Dave Wright talked with El Reg and discussed the vendor's upcoming hyper-converged system based on its own nodes.
Wright was SolidFire CEO when NetApp bought the company towards the end of 2015 and is now VP and General Manager of SolidFire within NetApp.
We tried, but were unable to get him to talk any about product details or timescales.
He confirmed that the product will carry on using x86-powered processors and that SolidFire software will provide the server SAN capability, not needing VSAN or other server SAN software. It will, of course, have sufficient CPU power and memory to run applications, but he didn't specify suppliers, CPU types, core numbers, etc.
Wright said he sees gaps in the existing hyper-converged infrastructure market around running enterprise workloads and says the SolidFire HCI will run tier one workloads. This is not going to be a product aimed at running VDI-type workloads in remote and branch offices with limited node scalability counts. So, we think, quite a lot of CPU horsepower and RAM is going to have to be added to the existing SolidFire nodes to cater for this.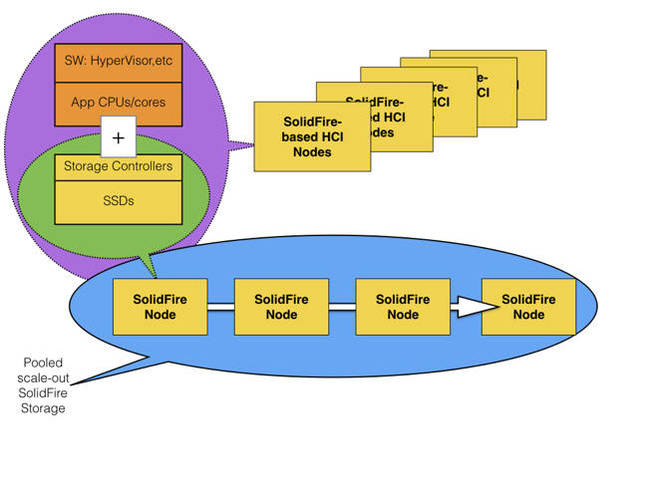 The Register's understanding of SolidFire's HCI scheme
Our understanding is that the SolidFire HCI will look like a cluster with a minimum node count, such as three or four; Wright wouldn't be drawn on this. The SolidFire HCI will be part of NetApp's Data Fabric and not be a separate computational and storage silo. He says that the Data Fabric unifies islands of silo'd IT.
Multi-hypervisor support is the aim but, we guess, VMware vSphere support will be the first priority. Another direction is to start with block storage and move towards offering file services. We're told to stay tuned. We will.
Here is a tantalising possibility: suppose SolidFire provides for NVMe over Fabrics-speed networking between its all-flash HCI nodes? That would upset the HCI performance applecart and provide direct competition for Excelero.
Our take on Dave Wright is that he is an entrepreneurial engineer and not a traditional, incremental development, corporate product engineering manager. We think something exciting could come out of this SolidFire HCI project and hope it does. Maybe there will be a Skylake CPU angle to add petrol tom its HCI fire.
NetApp has its Insight event in Ls Vegas in October and we're pretty confident that the SolidFire HCI will be much talked about at that event. ®