News flash: Storage farmers living off the fat of the NAND
Flash supply shortages drove up prices and profits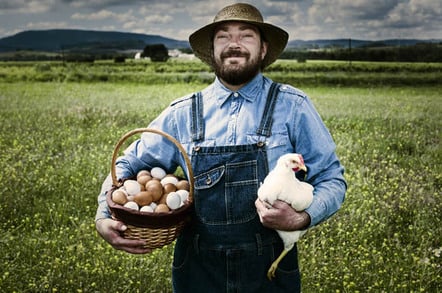 Samsung was top of the charts as NAND prices rose in the fourth 2016 quarter due to supply shortages, with suppliers' profits peaking according to TrendForce.
The research house ranked suppliers in revenue terms with Samsung top, followed by Toshiba, Western Digital, Micron, SK Hynix and then Intel.
It provided potted comments about each of these suppliers' performance in the fourth quarter:
Samsung's NAND Flash business registered a sequential growth of 11~15 per cent for bit shipments and an increase of more than 5 per cent in ASP (Average Selling Price). These results were attributed to strong demand for high-capacity eMMC, UFS and SSD products. Thus, Samsung's NAND Flash revenue for the fourth quarter advanced by nearly 20 per cent sequentially.
SK Hynix scaled back SSD shipments while increasing eMCP shipments in response to the demand from Chinese smartphone brands. Consequently, the supplier's bit shipments for the quarter post a slight sequential drop of 3 per cent but its ASP of NAND Flash chips saw a large sequential hike of 14 per cent.
Toshiba is presently working on products using 64-layer 3D-NAND Flash and has scheduled formal mass production in the second half of 2017. As Toshiba is still raising the yield of the 64-layer production, the company's memory business is going to focus on the sales of its 48-layer products during this year's first half.
NAND Flash revenue for Western Digital …rose by about 20 per cent sequentially due to increase in both bit shipments and ASP. Western Digital also continue to perform strongly in the SSD market, indicating that the company's acquisition of SanDisk has led to an effective integration of HDD and SSD lines.
Micron posted a large sequential increase of 26 per cent for its NAND Flash bit shipments. The supplier's NAND Flash revenue also grew 27 per cent compared with the previous fiscal quarter to reach around US$1.27 billion.
Intel posted a large sequential increase of more than 25 per cent for its NAND Flash bit shipments in the fourth quarter of 2016 because of the high demand for enterprise-grade SSDs. The supplier's NAND Flash revenue for the quarter also grew 25 per cent sequentially to $816m.

TrendForce NAND supplier chart
Sean Yang, research director of DRAMeXchange, a division of TrendForce, said: "On the whole, suppliers can expect sequential revenue increase for every quarter in 2017 as the market supply is expected to remain tight through the year." ®
Sponsored: Becoming a Pragmatic Security Leader